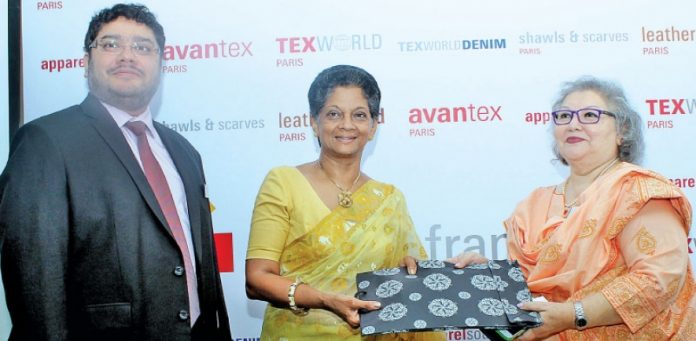 Sri Lanka is on course to reach the 2018 export target of US$ 17.5 billion set up by the government, said Chairperson, Export Development Board, Indira Malwatte. Speaking at the Messe Frankfurt Exhibition of Germany event held in Colombo she said that Sri Lanka has already achieved 60% of that target by end of July 2018.
She said the government has set up an export target of US$ 20 billion revenue for 2019 and 23 billion for 2020 end. "The export target set for 2020 is US$ 28 billion and these targets are now falling in line and are achievable." She also said that unlike some other countries, Sri Lanka does not include and add revenue generated from tourism to export revenue.Malwatte also said that today Sri Lankan export trends are shifting from merchandise to service oriented exporters. "I am sure service exporters would overrun the Merchandise exporters in two years."
She said that the service sector is being dominated by BPO services, ICT and logistics sectors. "This is why the Singapore and Sri Lanka FTA would be very advantageous for Sri Lanka as it would help to promote the servicer sector even higher." She said that like everybody united to defeat terrorism today people must rally round the exporters and give maximum assistance to them as exports and FDI are the key to economic growth."
Malwatte added that the proposed China Sri Lanka FTA too would help to woo more Chinese investors to Sri Lanka as it would be easier for them to manufacture in Sri Lanka and export back to Chine avoiding the taxes that are imposed on local manufacturing. Secondly Chinese manufactures can also take advantage of the Indo Lanka FTA and export to India and then to Pakistan.
Commending Messe Frankfurt organized global exhibitions she said that four Sri Lanka apparel manufactures participated at the 2017 'Ambiente' event in Paris along with four fashion designers and this year more would participate. Messe Frankfurt CEO of Sri Lanka, Omer Salahuddin said that they are happy with the participants of Sri Lanka for the last year's event and they are also hoping attract more form the 2018 event which would be held in Paris in September and their other events.
\\"With 800-year experience, Messe Frankfurt is today one of the global leaders in the fair industry while generating sales of about € 661 million and more than € 271 million sales was generated outside Germany." "Sri Lankan companies participate in Paperworld in Frankfurt and Dubai; Ambiente (Frankfurt), Intersec in Dubai and Automechanika fairs in Dubai, Frankfurt and Istanbul. We are now planning to open a regional office in Colombo next December."