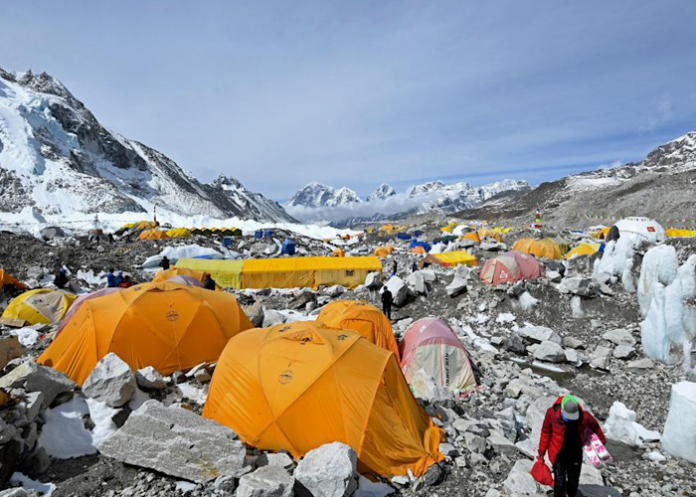 Mountaineers and authorities at Everest base camp in Nepal have told the BBC they are seeing rising numbers of climbers with Covid-19 symptoms and rising numbers of positive tests, raising fears of a serious outbreak.
Base camp officials said they had received reports of 17 confirmed cases from hospitals in the capital Kathmandu, where a number of climbers have been sent from the base camp and higher camps to be treated.
And staff at a private hospital in Kathmandu, the CIWEC clinic, confirmed to the BBC that patients had tested positive for coronavirus after arriving from Everest base camp.
The Nepalese government has so far denied having any knowledge of positive cases at Everest base camp, raising concerns that officials are downplaying the extent of the situation out of fear it will bring more pressure to close the mountain to expeditions.
Foreign climbers are a major source of revenue for the Nepalese government, which shut Everest last year during the pandemic.
Authorities are mandating that visiting climbers quarantine in Nepal before proceeding to base camp, but concerns have been raised within the climbing community that a serious outbreak at the mountain would be devastating.
The number of coronavirus cases has risen sharply in Nepal in recent weeks, and the country has the highest rate of infection among the countries neighbouring India, where a second wave has sparked a full-blown crisis.
Officials from Nepal's Department of Tourism, which directly oversees expeditions, could not be reached for comment, but Prem Subedi, the under-secretary at Nepal's Ministry of Culture, Tourism and Civil Aviation, told the BBC the ministry was not aware of any coronavirus cases at base camp.
"None of the Covid cases at Everest base camp have been reported so far to the Ministry of Tourism," he said.
Source By: BBC