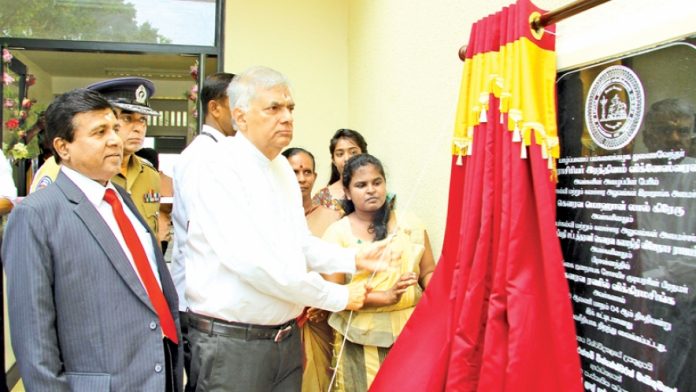 Following the conclusion of the 30 year war, the Yahapalanaya Government plans to win the economic-war by launching an extensive development project which expands from Point Pedro to Hambantota, Prime Minister Ranil Wickremesinghe said yesterday.
Prime Minister Wickremesinghe also said that the Yahapalanaya Government spent three successful years in establishing reconciliation in the country and now it has undertaken the mission of developing the North as well as other parts of the country. The Prime Minister was speaking at a ceremony at the Kilinochchi Campus of the Jaffna University to open a building constructed at a cost of Rs.5,000 million.
Prime Minister Wickremesinghe pointed out that a comprehensive project to develop the country's university system is in progress under the patronage of Higher Education Minister Dr. Wijeyadasa Rajapakshe.
While pointing out that Northern development contributes immensely to the overall economic development of the country, Prime Minister Wickremesinghe said the government is to develop the Northern Province under the Northern Development Project.
Premier Wickremesinghe pointed out that the government has already commenced the Kilinochchi project, Kankesanthurai Port and Industrial Zone project, road development projects centering Mannar-Vavuniya and Trincomalee, Agriculture and Tourism development projects and irrigation projects across the Northern Province.