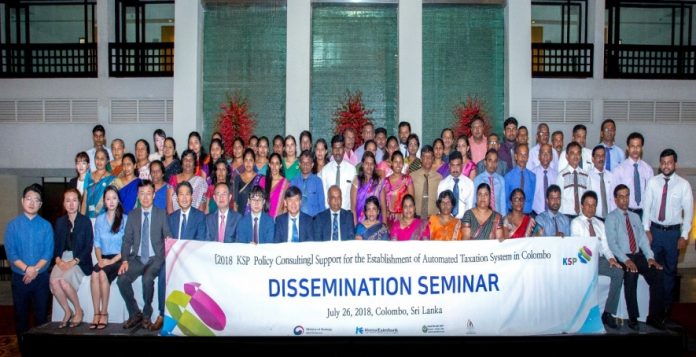 The Knowledge Sharing Program (KSP) policy consultation supported by the Korean Exim Bank to set up a master plan for the establishment of an advanced automated taxation system for Colombo Municipality has been successfully carried out from February to July 2018 and the final dissemination seminar was held on 26th July in Colombo with the participation of Colombo Municipal Council (CMC) officials including the Deputy Municipal Commissioner Mrs. Thamara Mallawarachchi.
In particular, Colombo is the economic center of the country experiencing rapid urbanization and land development resulting on higher tax rates imposed on land and buildings which account for 28% of total budget of CMC. However, due to existing manual taxing method, CMC is currently facing serious challenges such as uncertain data on taxable property, missing to charge tax, inefficient administrative procedures and so on.
Considering this urgent need to build a strong tax information system, especially for the Colombo city which generates considerably high amounts of tax, this consulting program produced policy recommendations and a framework to promote the development of the future CMC tax administration system by capitalizing on the experience of establishing the advanced tax information system in Seoul, South Korea.
Thus, an improvement model has been proposed which is largely aimed at components such as standardization of administrative work among CMC's internal divisions, establishment of a system for external linkages with other land related agencies, integration of databases, improvement of efficiency in rates assessment by linking land information with the existing GIS system, digitalization of assessment related formats, and establishment of a portal for taxpayers. Furthermore, future directions have been proposed including revitalizing the Single Window Center to integrate all local taxation services.
If this proposed framework for automated taxation gets implemented in future, it will not only help CMC to become a model in taxation and administration to other local authorities in the country but it will also contribute to Sri Lankan government's plan to establish the e-government to reform taxation administration and cut fiscal deficits in the long-run.