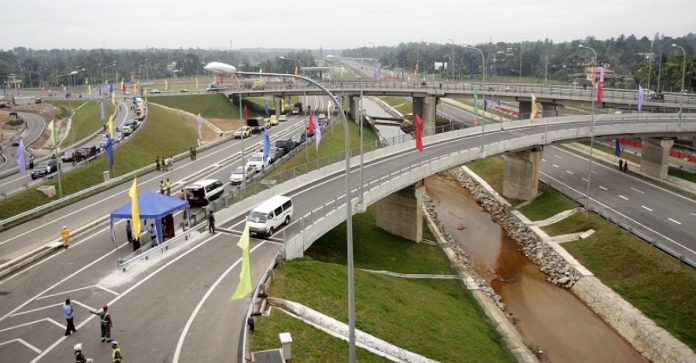 Construction work on the last stage of the Outer Circular Highway (OCH), the expressway around Sri Lanka capital that connects the Southern Expressway to the Colombo-Katunayake Expressway, is about 65 percent complete, according to the Road Development Authority (RDA).
The 29.5-kilometer OCH starts from Kerawalapitiya along the Colombo – Katunayake Expressway to link Southern Expressway crossing A-4 highway at Kottawa and the main A-1 Colombo-Kandy highway at Kadawatha.
The third and last phase of the OCH (OCH-3) from Kadawatha to Kerawalapitiya extending 9.63 kilometers is currently under construction. The second phase of the Outer Circular Highway from Kaduwela to Kadawatha opened for public in September 2015 and the first phase from Kottawa to Kaduwela opened in March 2014.
In the third phase, a new interchange will also be constructed close to the starting point of proposed Colombo-Kandy Central Expressway. The four-tier interchange will be the highest in the country, according to RDA.
Five long overhead bridges are being built along the Expressway and 6.3 kilometers of the total distance will be on the long bridges since the expressway runs through Muthurajawela wetland area and low land areas with paddy fields.Water drainage plan has also been prepared with the approval of the Central Environment Authority
The road is being constructed on concrete pillars in the wetland area costing three times more than filling the bogs with soil and constructing the road but the engineers point out that the long-term environmental damage is minimal when constructing on pillars, according to the RDA.
All temporary constructions including temporary supply roads were carried out under the supervision of the Sri Lanka Land Reclamation and Development Corporation.Vehicles exiting OCH-3 can easily reach Colombo, Ja-Ela and Katunayake and Wattala and Usvetakeyiyawa tourist zines through the Colombo-Katunayake Expressway.The OCH-3 also gives easy access to Yugadhanavi Power Station, the Petroleum and Gas Terminals and the Industrial zone.The third phase is targeted to be completed by 30 June 2019 and the entire OCH is scheduled to be open for public in July 2019