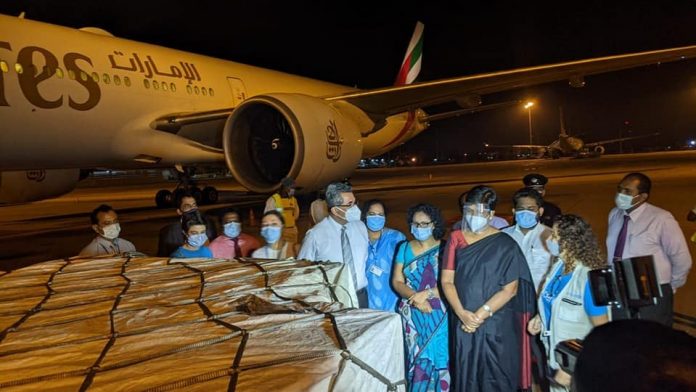 The first shipment of 264,000 doses of the AstraZeneca vaccine were delivered to Sri Lanka early on Sunday (07) morning , as part of the first allocation of the 1.44 million doses of COVID-19 vaccines from the COVAX Facility to the Ministry of Health.
The procurement and delivery of this supply of the vaccines through the COVAX Facility underpins the National Deployment and Vaccination Plan of the Ministry of Health (MOH) and will provide critical vaccination support for 20 percent of the population.
The first 264,000 doses from COVAX will be for the most vulnerable persons above 60 years of the age group in the most high-risk areas impacted by COVID-19.
As part of the agreement between the Ministry of Health and the COVAX Facility, the supply of the 1.44 million doses will be procured by UNICEF in stages until May 2021, subject to the availability from manufacturers and authorization by WHO Emergency Use Listing (EUL).