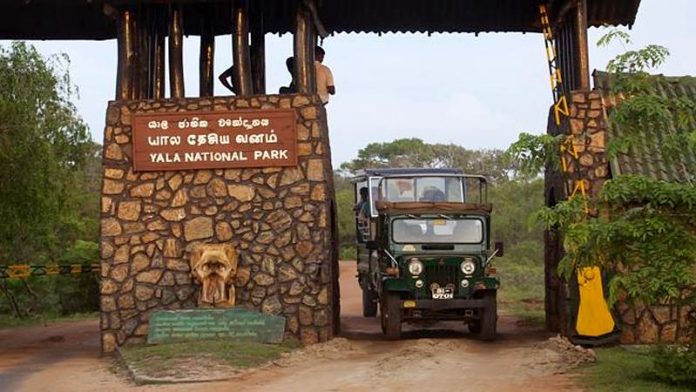 Yala, as an internationally renowned wildlife park, has attracted a large number of international and national visitors annually. The majestic leopard endemic to Sri Lanka is one of the main tourist attractions of this wild life park. While this interest in wildlife is remarkable and certainly positive for revenue collection, the increasing effects of over-visitation is posing a great threat of damage to the park and to its wildlife.
Numerically, visitation has increased from 43,368 visitors in 2008 to 545,007 visitors in 2015.This is an increase of over 1000% in 7 years. This has resulted in an average of 250 vehicles entering Yala Block 1per day with increased numbers during holiday seasons, often exceeding 700 vehicles per day, the Policy Development Office said in a media release issued last week. To curb this over visitation, the 'Yala Sub-Committee' of the Prime Minister's office is formulated to create a path towards a more sustainable management of the Yala National Park. The Department of Wildlife Conservation (DWC) and the Tourist Board are the main stake holders of this Sub-Committee while the Policy Development Office (PDO) of the Prime Minister's Office act as the monitoring organisation of this Sub- Committee, the release said.
"An action plan for improving the overall wildlife tourism experience in Yala National Park" was initially compiled by the Department of Wildlife Conservation in March, 2017. The progress of the above report for the period from January to June 2018 has been recently sent to the PDO by the DWC. The action plan is divided into three sections namely, Short-term, Medium- term and Long-term actions. As for the progress report of the action plan, the following actions have been already implemented/partially implemented so far.
Short term actions: Patrolling by at least 2 DWC vehicles in the park between 6am-10am and 2pm-6pm daily; DWC to permit entry and exit times decided on dawn and dusk timing; introducing rotational closure of Yala Block 1,3,4 and 5 for 3 month periods beginning with Yala block 1.
Medium-term actions: Yet to be implemented.Long-term actions: Introducing a phased programme to gradually limit the number of vehicles entering Yala Block 1 in conjunction with the improvement of wildlife sightings in Yala Blocks 3,4,5 and other developments in adjacent national parks.
Yala National Park is the most visited and second largest national park in Sri Lanka. As a valuable tourist attraction, it is important to protect this national heritage site of Sri Lanka and the initial step taken in this regard by the relevant authorities should be greatly appreciated.