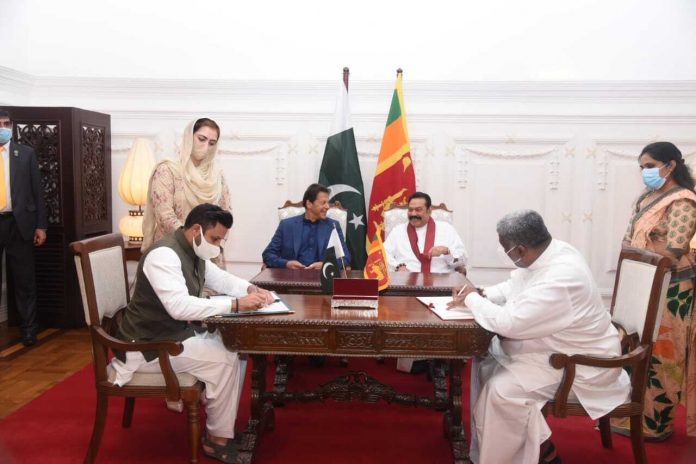 Sri Lankan Prime Minister Mahinda Rajapaksa and visiting Pakistani Prime Minister Imran Khan are currently holding bilateral discussions at Temple Trees, the PM's Office said.
PM Rajapaksa, in his opening remarks at the bilateral discussion, said the visit symbolizes the deep affinity that his Pakistani counterpart and his government cherish towards the people of Sri Lanka.
"I admire your courage and the great leadership that is evident in crucial decisions you have taken at times of crises. Even this visit is a clear demonstration of the leadership quality that I have seen decades ago when you led the Pakistan's National Cricket Team against strong opponents."
PM Rajapaksa went on to say that Premier Khan's people centric governance agenda goes hand in hand with Sri Lankan government's approach towards empowering the grassroots level communities and underprivileged.
"The ties between our two countries are closely linked by history, culture, religion, and our deep bilateral cooperation has become an all-weather friendship which has withstood the test of time," PM Rajapaksa said further.
"Relations between our two nations have now expanded to many sectors. But we have great potential before us to further strengthen our bilateral cooperation."
He thanked PM Khan for accompanying a strong business delegation with promising signs of investments and commercial partnerships. At a time of economic uncertainty, such private sector investments will greatly benefit the economies of both countries, he added.
PM Rajapaksa, recalling his most recent visit to Pakistan in 2017 and previously as President, said both were very productive and memorable for him. "I was indeed touched by the hospitality and the warm reception given to me and my delegation by the friendly people of Pakistan."
During the cordial discussions, both leaders were able to successfully agree on several points of mutual interest to the economies of the two nations, the PM's Office said.
Attention was also directed towards investment and trade promotion, agriculture and education fields as well as regional and international matters.
The two prime ministers also signed five Memorandums of Understanding (MoUs) of importance to both countries, it said.
Prime Minister Imran Khan arrived in Sri Lanka earlier today for a two-day official visit.
The Pakistani Prime Minister is visiting the island from 23-24 February 2021 on the invitation of his Sri Lankan counterpart Mahinda Rajapaksa.
During his visit, Prime Minister Imran Khan will also attend bilateral meetings with President Gotabaya Rajapaksa, while several other high-level engagements are planned, including a Business and Investment Forum, as well as a sports diplomacy initiative.
Both Sri Lanka and Pakistan Prime Ministers will together preside over an event to sign several mutually beneficial bilateral Memoranda of Understanding (MoUs) on 23 February following their official talks at the Temple Trees.
Prime Minister Imran Khan in his maiden official visit this year outside the country is accompanied by a high-powered business and investment delegation that will consist of business leaders in Pakistan, mainly from the sectors of textile and apparel, pharmaceuticals, agro-food commodities, sports goods, gems and jewellery, auto parts, ICT, construction material and surgical equipment.
Prime Minister Imran Khan is accompanied by Minister of Foreign Affairs Makhdoom Shah Mehmood Qureshi, Adviser to the Prime Minister on Commerce Abdul Razak Dawood, Secretary Foreign Affairs Sohail Mehmood and senior officials of the Pakistan Government.