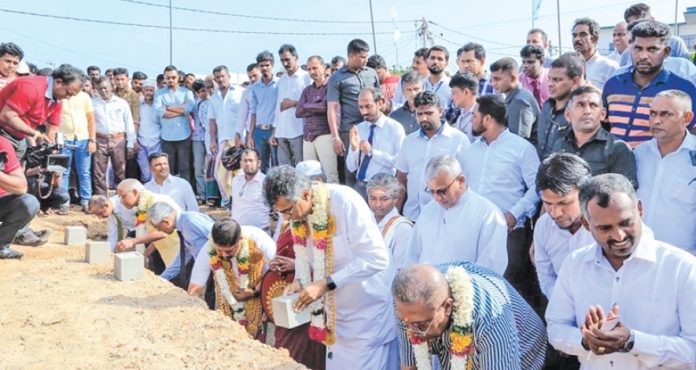 Mannar town and the five Pradesheeya Sabha areas in Mannar district will be developed under a systematic plan which has already been formulated, Megapolis and Western Development Minister Patali Champika Ranawake said. The work will be undertaken in consultation with all peoples representatives of the political divide, he added.
Minister Ranawake said this at a meeting which followed the launching of construction work on the proposed new bus stand recently. The project costing Rs 180 million will be undertaken by the UDA under its 'Sukhitha Purawara' (Happy City) programme.
Minister Ranawake said in the ancient past there had been a major commercial hub centered on the Port of Calicut in India, and Mantota and Beruwala in Sri Lanka. Mannar was world renowned for its oyster reef. During the British colonial period more than 4,000 foreigners had arrived in Mannar for pearl fishing. Two other resources more valuable than pearls had now been discovered in the Mannar region. They are the two gas and oil wells named 'Barrycuda' and 'Devide' discovered in the sea 32 kilometres off the Mannar coast found in September 2011.
Minister Ranawake said that when he held the Power and Energy portfolio, he was instrumental in extending the main electricity grid upto Mannar with the conclusion of the war. He was able to set up a CEB provincial centre and provide electricity supplies to each and every village in Mannar. Mannar also had immense potential to provide electricity through wind power. If these resources were properly utilised and managed, Mannar could be easily developed into a city similar to Dubai.
He said an esplanade had been built in Alfatar area. Steps would be taken to provide electricity supplies to the esplanade in response to the request made by the MP of the area. He said more than Rs 250 million had been allocated in the last budget for the development of Mannar.
He said people in the Mannar region had given unstinted support towards bringing the government led by the President and Prime Minister to power. They were committed to develop the region with the support of all peoples representatives irrespective of their political differences. He said Mannar which had ancient places or religious worship belonging to all denominations was a symbol of communal and religious amity.