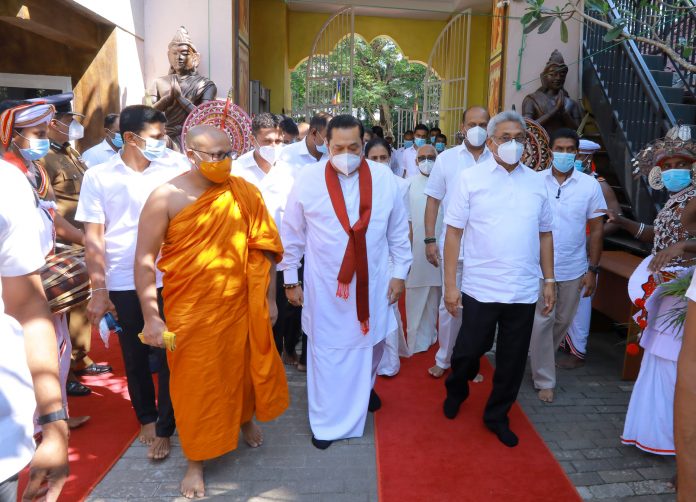 "Deepavapiya Aruna" Fundraising opening ceremony under the patronage of President and Prime Minister
The ′′ Diwapiya Aruna ′′ program to raise funds for the reform of the King Diwapi Chaithya started today (12) morning at Sri Sambodhi Temple, Colombo 07, under the patronage of President Gotabhaya Rajapaksha and Prime Minister Mahinda Rajapaksha.
One of the solosmasthans, Deepavapiya, takes the fourth place among the Dagabs in the country. King Saddhathissa has built Chaithya by depositing the nails of the Buddha.
The renovation of the Chaithya was planned as per the request of the Deepavapiya Viharadhiya Venerable Mahaoya Sobitha Thero. The project is expected to be completed in three years. Not spending any money from the state treasury is a specialty. Sponsors from home and foreign can contribute to it financial as well as labor.
The president who went to the temple first engaged in religious conditions. Siyam Maha Nikaya Asgiri party's alliance leader Honourable Upali Anunayaka Thero, the leader of the Siyam Maha Nikaya, Seth Pirith chanted the Maha Sangharatna and wished the President Seth.‍
Rupees donated by Nauyana Aranya Sena President Angulmaduwe Ariyananda Thero by giving first contribution to ′′ Deepavapiya Aruna Mr. Chandrakeerthi Bandara, a member of the contributing council, handed over the cheque of Rs 100 million to the President.
The Buddhist channel is Rs. Mr. Sudath Thennakoon, the head of Maharagama Cancer Hospital and Central Bearing, also handed over his donations to the President by the Tri-Army, Police, Civil Defence Bearing, Bank of Ceylon, Maharagama Cancer Hospital and Central Bearing.
The King Chaithya of Deepavapi has planned to build a 04 hall and 20 room restoration to facilitate the devotees coming to the holy ground in connection with the renovation.
The great leader of the Ramagna Maha Nikaya, the most respected Makulewe Wimala Na Thero, the great leader of the Amarapura Chulagandhi party, the most respected Gantune Assaji, the Mirisawetiya Viharadiya Ven. Ethalawetunuwa Gnathilaka, the archaeological chakravarti Ven. Ellawala Mehnanda Thero, thero, the leading Trinikayaka Maha Sangharatna, Minister Sarath Raj Minister Vidura Wickramanayake, and President Chief Advisor Lalith Weerathunga, Security Secretary Retired Major General Kamal Gunarathne, and the three commanders of the security force chiefs and government officials were present at the event.