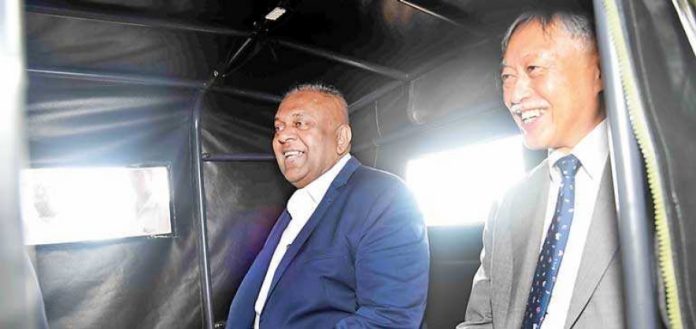 The first batch of electric three wheelers manufactured in Sri Lanka will be ready by 2020. Finance and Media Minister Mangala Samaraweera today launched and electric three wheeler (tuk tuk) at the Waters' Edge Hotel.
Spekaing at the launch, the Minister said that with more than 1 million three-wheeler drivers in Sri Lanka, the three-wheeler industry is a major sector of the country. He said the 'Sri Lankan tuk' has become something of an icon as it is used in myriad aspects.
"It is an affordable means of transport for small business, providing last mile connectivity for SMEs and entrepreneurs. Three wheelers are a means of affordable private transportation as well, and is increasingly popular in the tourism industry," he said.
The Minister said that the Government of Sri Lanka has recognised the importance of the sector to the economy and intends to further empower those involved in the industry.He said the introduction of electric three-wheelers to the industry is an important new policy.
"There are several reasons for the shift from the fossil fuel tuk to the electric version, and environmental concerns are chief amongst them. As part of the Paris agreement, Sri Lanka has pledged to reduce greenhouse gas emissions by 10% in the transport sector by 2020. Among the host of recommendations, one way to achieve this reduction is to convert the existing vehicles to 'zero-emission' vehicles, which would cause minimum levels of pollution and carbon footprint," he said.
He said he was encouraged by the electric three-wheeler launched today which was developed by the Japan Sri Lanka Comprehensive Partnership secretariatand T-PLAN. It is considered to have incorporated some of the cutting-edge technology available in this industry. "I understand that the first batch of electric three wheelers manufactured in Sri Lanka will be ready by mid-2020, in time for the 2020 Tokyo Olympics. It is very exciting to hear that T-PLAN hopes to export the Sri Lankan made electric vehicles to Japan. This would be the first of many technology transfer projects that are currently being incubated by the Japan Sri Lanka Comprehensive Partnership secretariat," he added.
The Minister said that through such policies and projects, the Government of Sri Lanka will not only show continued commitment to the empowerment of the three-wheeler industry, but also to achieving long term economic growth through sustainable development. (Colombo Gazette)