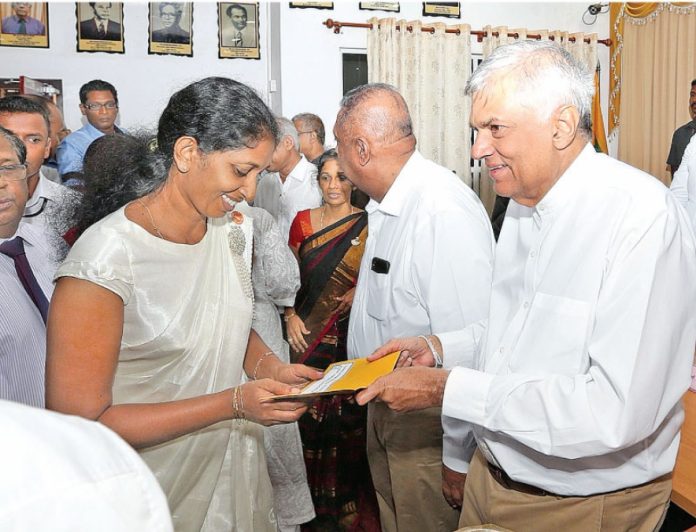 The government will start a new Development Bank and in its first round of financing, it will give Rs 10 billion in loans to Sri Lankan entrepreneurs," said Prime Minister Ranil Wickremesinghe speaking at the Northern Entrepreneur Awards 2017 organised by National Enterprise Development Authority (NEDA) in association with Yalpanam Chamber of Commerce, in Jaffna.
"Capital for development will also be given. Northern entrepreneurs will get larger tax reliefs. Tax relief for Capital expenditure is 200% at present but it will be increased to 300%. If your new industry is an industry targeting exports, then the tax is only 14% ," he said.
The Premier said that Minister of Industry and Commerce Rishad Bathiudeen is in negotiations for a new industrial zone for the North. Fishery can also be developed for exports while tourism too can be developed including yachting services for islands he said.
The Prime Minister also said that the government is negotiating with India for a major development project for the Northern Province in the scale of the historic Mahaweli project'."We are in talks with India for Northern development, in the next 10 years. There was a strong base of entrepreneurship during pre-war times in the North, which the prolonged war destroyed. Some Northern entrepreneurs switched to Colombo while others migrated. Now we should rebuild the economy and speed up growth here, brining north in par with the rest."
"We need to reinstate yester-year's Northern glory. Enterprise Sri Lanka is one of the key programs helping Sri Lankan entrepreneurs. We conditionally subsidise entrepreneurs. For some we won't even charge loan interest since start-up process is our priority. This rule is for all scales of entrepreneurs-small, medium and large. The Gamperaliya program also helps SMEs. Village infrastructure development program is also on."
"The poverty levels of the Province have declined from 30% in war times to around 10% at present. Therefore this is the correct time for SME revival in this province," said Minister of Industry and Commerce Rishad Bathiudeen.
Sri Lanka has more than one million registered SMEs, each employing three persons on average. Taken together with other micro enterprises and SMEs that are not registered, the sector's presence is weightier with a sizeable contribution to the economy –an estimated 52 percent of GDP. According to the Yalpanam Chamber, Northern Province hosts approximately 2000 SMEs.
Finance Minister Mangala Samaraweera, Northern Province Chief Minister C. V. Vigneshwaran, Chairman of NEDA D. Bogollagama and Chairman of Yaalpanam Chamber of Commerce K Vignesh also participated.