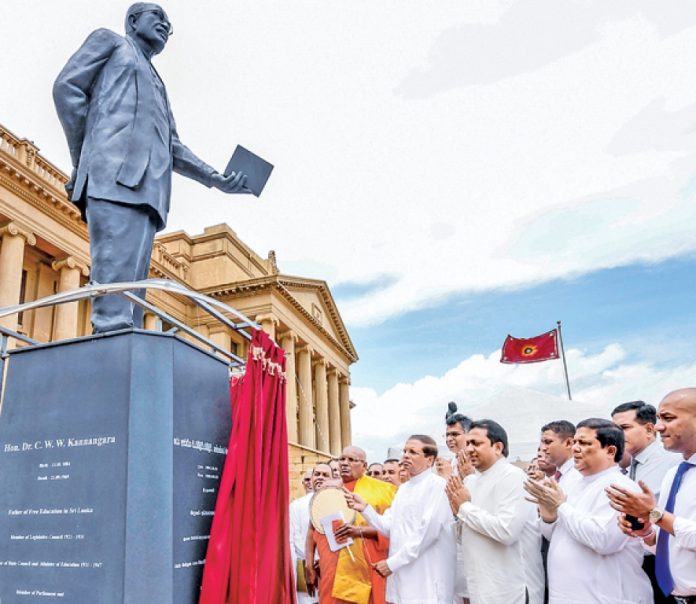 The statue of C.W.W.Kannangara, pioneer of free education, was unveiled by the President. He was the father of the concept of Central colleges and free education. The statue was unveiled by President Maithripala Sirisena yesterday (10th).
This statue was built with the contribution of the Central Schools Past Pupil's Association and the President's office. C.W.W.Kannagara who was renowned as the father of free education has done a tremendous contribution to the field of education.
All the victories were won by C.W.W.Kannangara for the nation to provide free education despite many challenges from opposing forces that were enjoying privileges of the Europeans. The Buddhist monks, Buddhist leaders, and the masses assisted him where he kept faith on the fact that the important duty of building the as it is only through education such a goal could be accomplished.
As a result the concept of central colleges and free education emerged. He pioneered in building central colleges with boarding facilities. He pioneered in building at least one central college in each electorate which provides the higher educational facilities such as boardings, handicrafts training facilities, playgrounds, and libraries.
He was lso responsible to recruit qualified principles and teachers. He gave fundamental education to bright rural students in central colleges to enhance their performance. Through that a new renewal in the field of education took place within the country. He worked with utmost courage to broaden the concept of central colleges which can generate results with a very little amount of resources. President Sirisena who unveiled the statue of C.W.W. Kannangara offered flowers to the statue.
The President of Central Colleges past pupils Association Dharmasena Kahandawa made the welcome speech while Minister Vajira Abeywardena also addressed the audience. Former Ministry Secretary Attorney –at- Law A.P.A. Gunesekara addressed the gathering on behalf of the Past Pupil's association.
Maha Nayaka of Kotte Sri Kalyani Samagri Dharma Maha Sangha Sabha Chancellor of the University of Sri Jayewardenepura Ven. Iththepane Dhammalankara Thero, leader of opposition R.Sampanthan, and other ministers and family members of C.W.W. kannangara were present in this event
The President of Central Colleges past pupils Association Dharmasena Kahandawa made the welcome speech while Minister Vajira Abeywardena also addressed the audience. Former Ministry Secretary Attorney –at- Law A.P.A. Gunesekara addressed the gathering on behalf of the Past Pupil's associationMaha Nayaka of Kotte Sri Kalyani Samagri Dharma Maha Sangha Sabha Chancellor of the University of Sri Jayewardenepura Ven. Iththepane Dhammalankara Thero, leader of opposition R.Sampanthan, and other ministers and family members of C.W.W. kannangara were present in this event