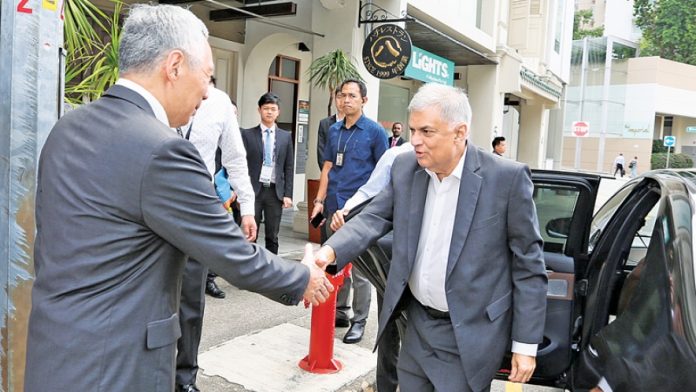 Singaporean Prime Minister Lee Hsien Loong said he will take steps to increase the opportunities for investment through the Free Trade Agreement (FTA) between Sri Lanka and Singapore.Prime Minister Ranil Wickremesinghe and the official Sri Lankan delegation were hosted for lunch by his Singaporean counterpart yesterday. The Singaporean Prime Minister further said that through the FTA opportunities would also open up for investors who are currently investing in Singapore to also invest in Sri Lanka.
"Through the FTA, Sri Lanka will be able to obtain access to technology, knowledge and job opportunities," he said. Prime Minister Wickremesinghe pointed out that by working together in the economic, administrative and social sectors, Sri Lanka and Singapore could together create mutually beneficial programs.
The Singaporean delegation was represented by Mrs Lee, Information and Communication Minister S. Iswaran, Manpower Minister, Josephine Teo, Singaporean Ambassador to Sri Lanka Chandra Das and Chief Private Secretary to the Prime Minister, Jeffrey Siow.
The Sri Lankan delegation was represented by Prof. Maitree Wickramasinghe, Water Supply and Town Planning Minister Rauff Hakeem, Housing and Construction Minister Sajith Premadasa, Development Strategies and International Trade, Malik Samarawickrama, Petroleum Resources Development Deputy Minister, Anoma Gamage and Sri Lankan Ambassador to Singapore Nimal Weeratne.