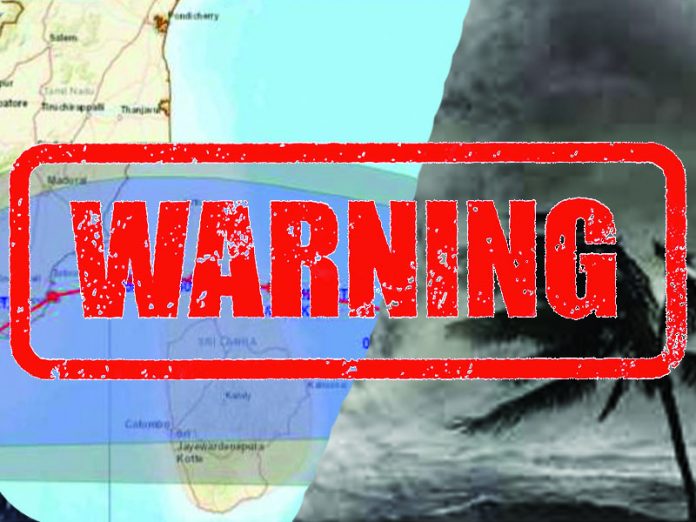 Cyclonic storm Burevi is located 110 km east-southeast of Trincomalee, the Natural Hazards Early Warning Centre at the Department of Meteorology in its latest weather advisory issued at 5:00 pm on Wednesday (Dec. 02) said.
The Department of Meteorology predicts that cyclonic storm Burevi will make landfall in Sri Lanka's East Coast between 7 PM and 10 PM today (Dec. 02).
The system is very likely to move west-northwestwards and cross north-eastern coast of Sri Lanka between Trincomalee and Point-Pedro, close to Mullaithivu tonight (Dec. 02).
This Cyclonic storm with a wind speed of 80-90 kmph gusting up to 100 kmph is very likely to move nearly westwards thereafter, and emerge into Gulf of Mannar by tomorrow morning (Dec. 03).
Storm surge of about 1 meter height above the astronomical tide is likely to inundate low-lying coastal areas extending from Trincomalee to Kankasanthurai and in Pooneryn to Puttalam.
The sea area around the island will be very rough as the wind speed can increase up to 100 kmph at times.
The storm will bring Very Strong Gusty Winds of 80-100 kmph in the Northern, North-Central, Eastern, North-Western, Western, Central, Sabaragamuwa both today (02) and tomorrow (03), the Department of Meteorology predicts.
According to the weather advisory, other provinces may experience gusty winds of about 60-70 kmph.
In the advisory for rainfall, the Met Departments predicts intermittent showers at many places, with very heavy showers exceeding 200 mm in the Northern, North-Central, Eastern, and North-Western provinces today.
Heavy rainfall of over 100 mm are predicted over the other provinces with 50 mm of rainfall in the Southern province.
The general public is requested to be vigilant regarding impending extreme weather situation.