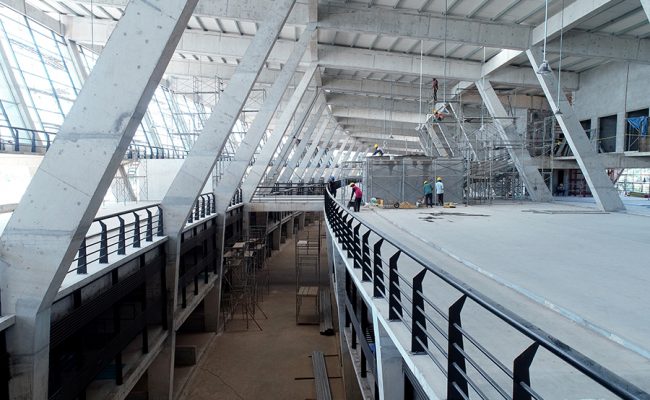 The Peliyagoda Manning Market was opened on Friday (20) by Prime Minister Mahinda Rajapaksa.
The new Manning Market features 1,192 shops, a large parking lot for 600 vehicles, restrooms for staff, medical facilities, banks, restaurants, cold rooms, hotels, and many more.
A special feature is that the market complex is constructed so that vegetable lorries can be brought to every shop up to the 3rd floor of the four-storey Manning Market in Peliyagoda.
The Manning Market, which was limited to 2 acres in Pettah, has been converted into a fully-fledged wholesale market spread over 13.5 acres.
The total cost of this project was 6.5 billion rupees and according to the Urban Development Authority, the new Manning Market will provide a wide range of facilities to traders and consumers.
Preliminary plans were made to relocate the Colombo vegetable wholesale market to Peliyagoda at the same time as the fish wholesale market was being shifted to Peliyagoda in 2013, said Prime Minister Mahinda Rajapaksa.
According to the original plans, construction of the Manning Market began in 2013.
The Prime Minister slammed the 'Yahapalana' government for stalling all development drives launched by the government he led before, adding the 'Yahapalana' government was focused on political persecution.
He said the former government was more focused on sending public servants to prison, rather than appreciating them.
Not only the wholesale trade of fish and vegetables but also the wholesale supply of dry food and building materials in Pettah will be shifted to Peliyagoda in the future.
The Peliyagoda Exchange connects highways to all parts of the country, making it easy to transport these goods to and from Colombo.
The Peliyagoda interchange connects with all expressways including the Airport Expressway, Southern Expressway, Central Expressway, and Northern Expressway, making it easy to transport goods throughout the country.
Therefore, the move is expected to have some effect on reducing traffic congestion in the Colombo city and other roads.