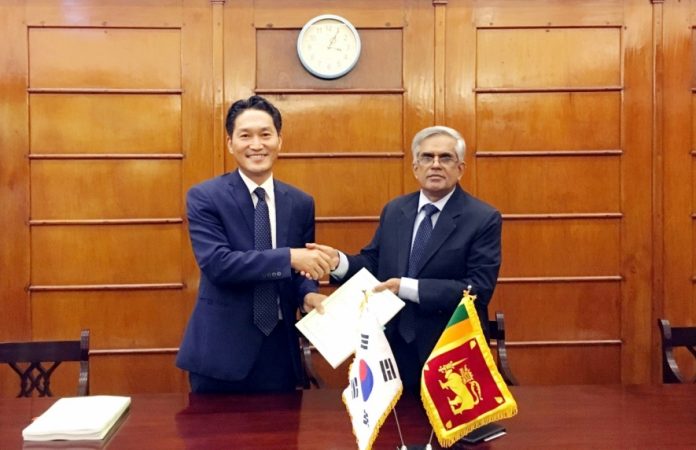 The Government of Sri Lanka and the Export-Import Bank of Korea (Korea Eximbank) signed two loan agreements to supply 190 garbage compactors for Sri Lankan local governments to manage solid wastes in more efficient way on 28th June 2018. Dr. R.H.S. Samaratunga, Secretary to the Treasury, Ministry of Finance and Mass Media and Sungsoo Jung, Chief Representative of Korea Eximbank Colombo office signed the loan agreements at the Ministry of Finance and Mass Media.
Korea Eximbank will finance this project with USD 14 million of 0% interest rate and 30 year repayment period including 10 year grace period. The project executing agency will be the Ministry of Provincial Councils, Local Government and Sports whereas the National Solid Waste Management Centre under the purview of the same Ministry will function as the project management unit.
There is a serious shortage of waste collection equipment in Sri Lanka where only 11.6% of solid waste is collected by garbage compactors. In this context, by supplying 190 garbage compactors this project will not only reduce garbage collection time but also increase solid waste collection quantity to improve the solid waste management in Sri Lanka.
Korea Eximbank is also financing USD 34 million to construct 4 sanitary landfills in Jaffna, Anuradhapura, Polonnaruwa and Hikkaduwa to reduce solid wastes disposed in unsanitary open dumping sites. These 4 sanitary landfills will lessen further environmental pollution and damages and will enhance the health and sanitary lifestyle of people as well.