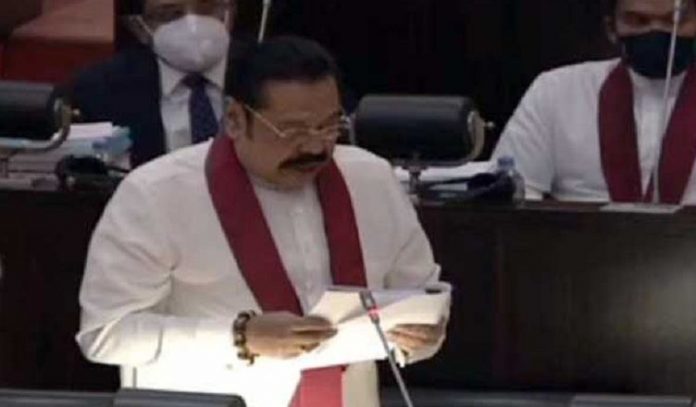 The government has said it hopes to reduce public debt from 90 percent to 60 percent of the country's Gross Domestic Product next year.
We hope to obtain bilateral development loans worth USD 400 million," Prime Minister Mahinda Rajapaksa, who tabled the budget as finance minister, said.
He attributed the rise in the country's debt to the lack of a proper mechanism to monitor projects in the country.
The Prime Minister noted that around 65 percent of the country's Rs 2.6 trillion budget would be allocated for domestic expenditure.
Concessions to remain as new tax comes into effect next year
In his budget speech, Rajapaksa proposed to introduce a Special Goods and Services Tax that can be managed through an online platform by the Inland Revenue Department.
He, however, said Value Added Taxes will remain unchanged at 8 percent for businesses that record a turnover of more than Rs 25 million a month.
However, this would not apply for bank, finance and insurance establishments.
Entities engaged in farming, agriculture, fisheries, and livestock farming industries will also be exempted from taxes during the next five years, he said.
Foreign companies will also be exempted from their dividends for three years if the money is invested in Sri Lankan sovereign bonds or the stock market.
The Prime Minister proposed the introduction of new laws against preparing false tax records, that can result in auditors and companies being suspended from their services.
National Security
The finance minister, in his budget speech, said that Rs 2 trillion will be allocated as additional provisions for the tri-forces to provide them with training using the latest equipment.
He added that Rs 2.5 billion will be allocated to address special programmes aimed at strengthening public security.
New laws will also be implemented in the coming years concerning data security, cyber security and intellectual property, Rajapaksa pointed out.
Information Technology and Communication Sectors
The Prime Minister said that Rs 800,000 million is to be allocated for the expansion of the technology sector, under the government's policy.
He pointed out that five technoparks are to be built in the Galle, Kurunegala, Anuradhapura, Kandy and Batticaloa districts, with the projects costing Rs 10,000 million.
Rajapaksa added that identified state lands will be vested with the Telecommunication Regulatory Commission to set-up communication towers.
Education; government to promote vocational training
The finance minister rolled out the government's plan to provide a monthly bursary of Rs 4000 for vocational training students.
He also said that loans worth Rs 500,000 to be given at 5 percent interest rate students who complete vocational training and start-up own businesses.
These loans would be offered at a grace period of one year with additional four years to settle the loan. The businesses would also be exempt from taxes for the next five years.
On the health front, the Prime Minister said that Rs 18,000 million would be allocated additionally for the development of health-related establishments in the country.
This includes maternity child clinics, laboratories, hospitals, and research institutes.