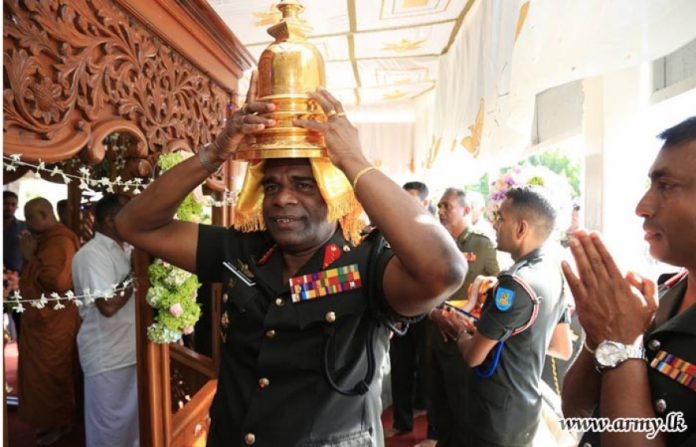 Lieutenant General Mahesh Senanayake, Commander of the Army, currently in the Eastern region in connection with Poson Commemorations, opening of various facility complexes in the Ampara Combat Training School (CTS) and the 24 Division Headquarters (see separate stories) in the company of the Commander, Security Forces – East (SF-E), Major General Santhusitha Pananwala, took part in elaborate 'Poson' arrangements at Ampara Buddhangala Aaaranya Senasanaya (monastery) on Friday (29).
The monastery has dedicated the day, Friday (29) to the Sri Lanka Army in their week-long commemorative programmes. A procession attended by pockets of Army personnel conducted the relic casket to the shrine room before the Buddha Pooja and other offerings got underway, headed by the resident monk, Ven Suseema Thero. The Commander in the procession carried the casket and placed it in the shrine, together with hundreds of troops, including Major General Mahinda Mudalige, General Officer Commanding, 24 Division.
A brief oration (anusasana) of the monk invoked blessings on the Army and explained its important and challenging roles lying ahead for development of the island and its security roles in the future. He also praised the Army for its unfailing support for sustenance of the monastery all the time, despite continuing threats of LTTE terrorists that prevailed in the region before May 2009. Towards the end of the oration, he invited the Commander to unveil the relic casket and declare it open for public veneration on account of the Poson week. A gathering of all ranks and devotees were present during those programmes.