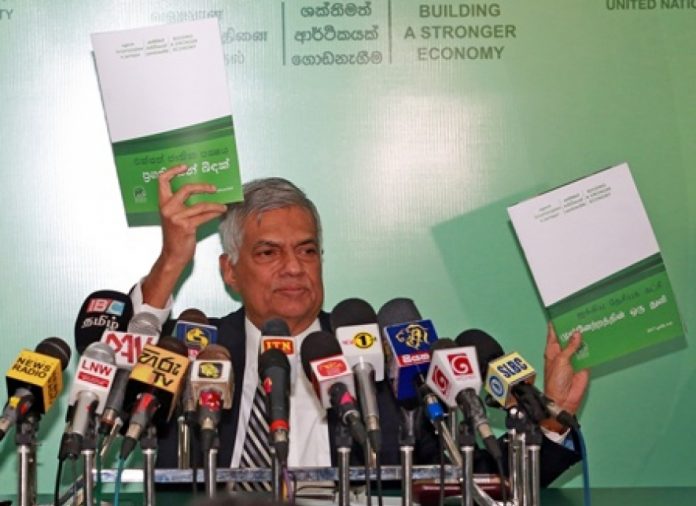 The government will spend between Rs. 160 billion to Rs. 200 billion within the current and next year to bring about a development revolution in the country, Prime Minister Ranil Wickemesinghe said at Kelebokka, Panwila yesterday.
He was addressing a meeting held at the Kelebokka state plantation playground to mark the distribution of 500 plots of land in extent of seven perches blocks among plantation workers. The distribution was made under the "Haritha Bhoomi' programme of the state enterprise and the Kandy Development Ministry aimed to provide plantation workers with land ownership.
The Prime Minister said that these monies will be allocated through three major accelerated development projects, namely, 'Enterprise Sri Lanka', the 'Gamperaliya' and 'Grama shakthi' and through decentralised budgeting with the aim to develop villages. "During the past few years, we developed the country in a systematic manner. We worked in accordance with a plan. We did not lie to the people. There was criticism as well. But, the people can see and feel their results now," he added.
The Premier said if the country goes forward in this manner for another 3-4 years the government will be able to provide unprecedented relief and benefits to the public. Prime Minister Wickremesinghe observed that the Good Governance government reduced the prices of food, fuel and other essential commodities and increased salaries at the same time.
He said the government during the past three years had also taken the country out of the debt trap.The Premier recalled that when the present government took over in 2015, the country had massive debts, the high Cost of Living, rising unemployment among other issues. "When the economy develops, employment increases, income increases, houses increase and the education improves," he said adding that it is the society the government wants to create and the results can be seen now.
Wickremesinghe said the granting of land ownership to landless people was a policy adopted by the UNP since the D.S.Senanayake era. He said all landless estate sector workers will be given land ownership by this government. After the event in Panwila the Premier also distributed plots of land in extent of seven perches blocks among plantation workers in Hantana, Kandy