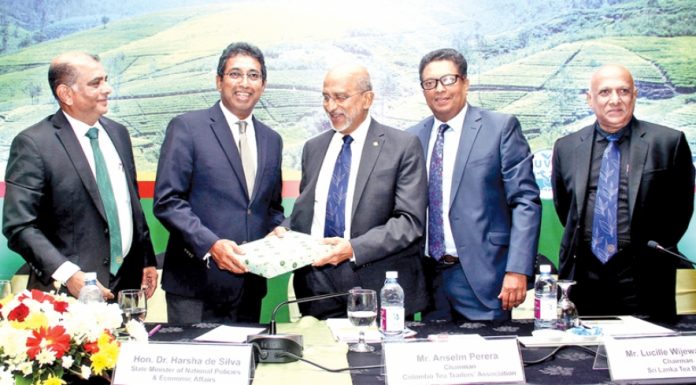 As the quality of Ceylon tea is still high there is a very good response for it in the foreign market and authorities should take more measures towards producing good quality and value-added tea to capture more global players, opined National Policies and Economic Affairs, State Minister Dr Harsha de Silva at the 124rd AGM of the Colombo Tea Traders Association (CTTA) held in Colombo.
Minister De Silva highlighted that Ceylon tea is still best in the world and lauded the Colombo Tea Traders Association for their invaluable contribution rendered towards the country's oldest plantation industry that helped to swell the country's economy to a greater extent. Dr. De Silva pointed out that not producing enough tea, not marketing tea in a methodical way and still focusing on wrong products were the main obstacles the tea industry faced today.
The Minister also recalled that Sri Lanka previously supplied majority of its tea to the UK and Pakistan markets but in 2006 exported only 3.04 per cent to UK and 2.13 per cent to Pakistan while in the same year Kenya exported 47.12 per cent and 60.05 per cent of tea to UK and Pakistan markets respectively.
He said the Ceylon tea industry needs revitalization to take it forward, otherwise the industry will lose grounds to competitor countries. Dr De Silva also warned against the practice of adulterating Ceylon tea with cheaper imports and still presenting it as Ceylon Tea."We need effective regulatory environment and law enforcement to stop such activities," he cautioned. Ceylon Tea Traders Association, Chairman Anselm Perera recalled the incident where Lanka's largest buyer of Ceylon Tea, Russia suddenly suspended the import of Ceylon Tea in December 2017, due to the discovery of a beetle in a container of Ceylon Tea.
The Chairman expressed his gratitude to former Tea Board Chairman Dr. Rohan Pethiyagoda and Sri Lankan Ambassador to Russia Dr. Saman Weerasinghe for their support to get us out of that unpleasant situation.
Focusing his attention towards the ban of using Glyphosate which was imposed in 2015, Perera said plantation Managers applied this product for efficient weed control."Glyphosate which was widely used as a weed eradicator by all tea producing countries across the world continues to be used not only for tea but for most commercial crops. Unfortunately, Sri Lanka chose to be the only exception."
He said authorities should know that this product has been most cost effective and received wide acceptance globally in the plantations industry.