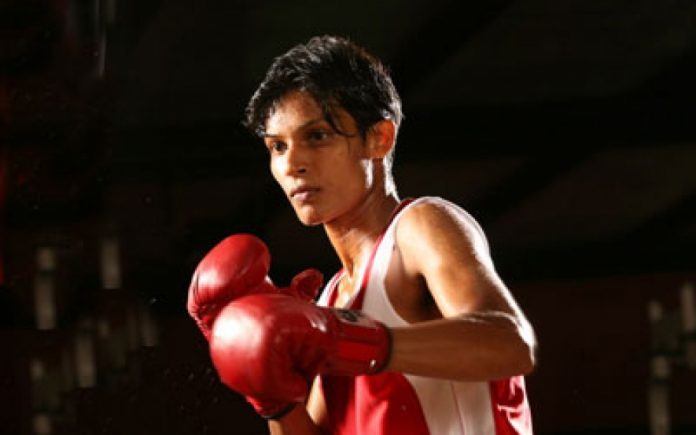 Anusha Kodithuwakku proved she is fit and ready for a tilt at glory at the Asian Games in August, by winning a bronze medal in the women's flyweight category at the Ulaanbaatar Cup in Mongolia recently.
At 39, Sri Lanka's boxing heroine Kodithuwakku is at the tail end of an illustrious career, which includes winning a Bronze medal at the Gold Coast Commonwealth Games in April this year. The Asian Games will be one of her last major competitions, with her swansong likely to be at the World Championships in New Delhi in November.
Kodithuwakku, a longtime employee at MAS Unichela, showed her impending retirement will leave a huge void when she took on a strong field at one of the warm-up events for the Asian Games and emerged with a Bronze medal in the 51kg flyweight class in Mongolia.
"I'm very pleased with my performance as I will come up against these same boxers at the Asian Games too. Winning a medal will boost my confidence," Anusha said. It will be her first appearance at an Asian Games. Four years ago, an injury forced Anusha out of the Incheon Asian Games.
"It was a noteworthy performance as she faced stronger opponents than she did at the Commonwealth Games. There were boxers from North and South Korea, Russia, Iran and host Mongolia, who are all of a very high quality. We are very pleased that Anusha was able to reach the semi-finals where she lost narrowly to a North Korean girl," said Coach Manju Wanniarachchi.
The garments giant has been involved in the sport for decades and is paying for Kodithuwakku and three other boxers in their bid to win a place in the Asian Games squad. Sri Lanka was represented by three male and three female boxers in Mongolia.
"Anusha's next competition, as she looks ahead to the Asian Games will be the Police Commissioner's Cup in Indonesia in early July. Two other girls from MAS who went to Mongolia – Keshani Hansika and Krishmi Dharmathilake – will accompany her," revealed Wanniarachchi.
The Indonesian event will take place at the same venue where the Asian Games boxing competition will be held, leaving Anusha delighted at the opportunity to use this as a dress-rehearsal for her medal bid in August.
Kodithuwakku, a former Sri Lanka women's rugby sevens player, has made clear her intention to retire after 17 long and hard years in the ring. She became the first woman to win a boxing medal for Sri Lanka at the Commonwealth Games in April – in the process breaking the 68-year medal drought in the sport – knocking down Brandy Barnes of the Cayman Islands in the quarter-finals.
Anusha's bid to reach the Gold medal bout was stopped by India's celebrated fighter Mary Kom, who won on points. With the Commonwealth Games Bronze medal in her hands, Anusha is now bidding for her last hurrah at the Asian Games and the World Championships