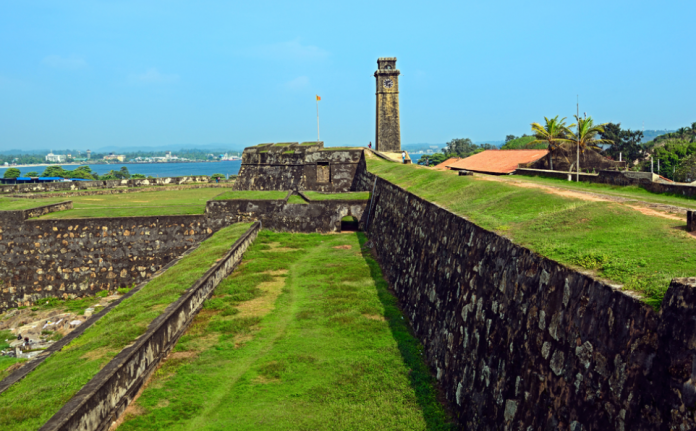 The foremost objective of the Tourism Police is to transform the Galle region as the tourist hub of South Asia, Prime Minister Ranil Wickremesinghe said in Galle. He was addressing a forum on the Development Plan for Galle and its suburbs, held on Sunday at the Galle Fort Marine Museum premises.
"All illegal constructions within the Galle Fort should be removed and state organisations located in the Fort area shifted without delay. However, no destruction should be caused to Galle's heritage in the process," the Prime Minister further stressed.
Galle's New Development Plan with the aim of promoting tourism should be implemented while preserving and protecting the precious World Heritage Site of the historic Galle Fort. No fortifications should be permitted according to the whims and fancies of individuals or organizations.
Even government institutions should follow the provisions of the new City Development plan in making alterations to any existing buildings and in new constructions, he further observed. He also requested the officials to list out the state organisations which have informed their readiness to shift from Galle Fort and specially instructed them to initiate the respective course of action according to a fixed plan. Prime Minister also stated that illegal constructions at the Galle International Cricket Stadium should be also removed, accordingly.
Youth Affairs and Southern Development Minister Sagala Rathnayaka said that many of the government establishments in Galle Fort have asked for further dates to shift their organisations from the Fort. However Prime Minister Wickremesinghe reiterated the need of expediting the process.
Home Affairs Minister Vajira Abeywardana, Land and Parliamentary Affairs Minister Gayantha Karunathilake, Sate Minister Piyasena Gamage, Galle District Parliamentarians Wijepala Hettiarachchi and Bandulala Bandarigoda and a host of government officials participated at the occasion