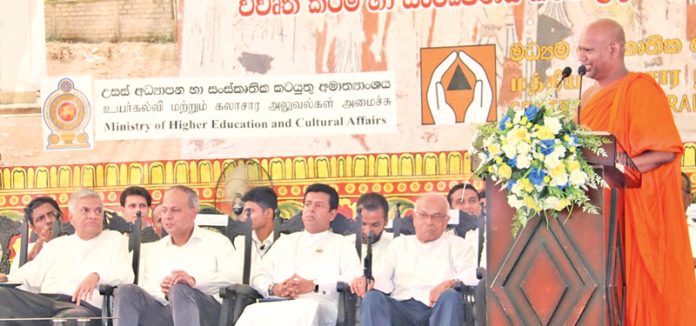 With the consent of the nayaka theras, the government will make recommended amendments to the Pirivena Act as requested by the Pirivenadipathi of the Maha Manthindana Pirivena, Ven. Tissamaharamaye Indrananda Thera and reaffirmed by the Chancellor of the Sri Jayewardenepura University, Ven. Dr. Ittapana Dhammalankara Thera, said Prime Minister Ranil Wickremesinghe, addressing the 125th anniversary celebrations of the Maha Manthindana Pirivena in Matara, on Saturday evening.
Welcoming the Prime Minister and other distinguished guests, Ven. Tissamaharamaye Indrananda Thera stressed that the existing Pirivena Act needed to be amended and also hoped that the government would help to develop the institution which even to this day had to make do with a few corrugated sheet-cladded structures.
Earlier in the evening, the Prime Minister opened a library building at the Pirivena, which was renovated by the Central Cultural Fund. He also launched the web page of the Maha Manthindana Pirivena.
The Prime Minister promised to help develop the historic institute and as the first step, construct a new bhikku hostel on the premises.
Ven. Dr Ittapana Dhammalankara Thera said that as much as a pirivena was a house of learning, it was a place of worship like any other Buddhist temple. The Venerable Thera reaffirmed that the Pirivena Act needed to be amended as there were a lot of shortcomings. Ven. Dhammalankara Thera stressed that the daily increase in the number of ordained Buddhist monks leaving the Sasana was a matter of concern.
Youth Affairs, Project Management and Southern Development Minister Sagala Ratnayaka, Industry and Commerce Deputy Minister Buddhika Pathirana, District Secretary Pradeep Ratnayaka and a large gathering of clergy, government officials and other dignitaries attended the final day of the 125th anniversary celebrations.