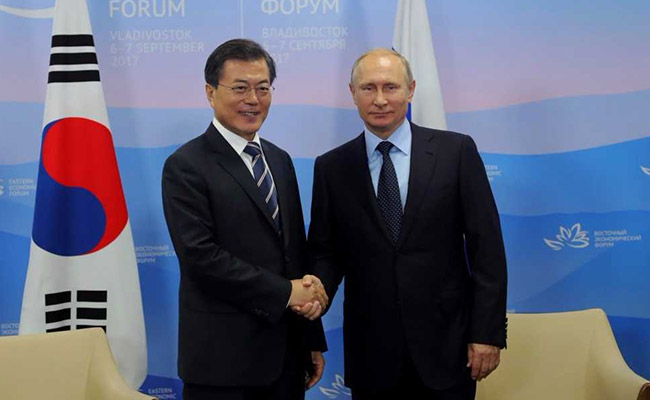 Russian President Vladimir Putin on Friday invited his South Korean counterpart Moon Jae-in to an economic forum in Vladivostok in September, confirming his plans to host the leaders of both Koreas in Russia.
"We would be happy to see you as an honorary guest" at the Vladivostok forum which starts on September 11, Putin told Moon during a press conference after they held talks in Moscow.
The Russian leader has also invited North Korea's Kim Jong Un to the event, as well as the leaders of China and Japan.
So far, only Japan's Prime Minister Shinzo Abe has confirmed his attendance.
On Friday Russian media reported that Kim has not yet responded to the Kremlin's invitation.
"There has not been an answer yet," Putin's aide Yury Ushakov was quoted as saying by TASS news agency.
During his press conference with Moon, Putin said he "welcomed" a recent historic summit between Kim and US President Donald Trump in Singapore, when the two leaders signed a joint document calling for the denuclearisation of the Korean peninsula.
"We hope this will allow tensions to be significantly reduced in the Korean peninsula and in the future create conditions for the formation of a sustainable security system in the region," he said.
During his three-day visit, Moon is also expected to watch South Korea's World Cup match against Mexico on Saturday in the city of Rostov-on-Don.