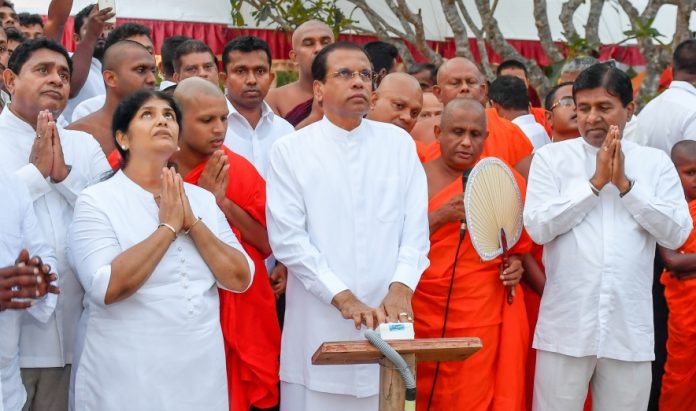 President Maithripala Sirisena says that it is the responsibility of the government to sustain and inherit the past historical cultural heritage to the next generation of our proud nation which has a glorious history.
The President said this participating at the ceremony of unveiling the pinnacle of chaithya of historic Unagala viharaya held in Polonnaruwa yesterday (24th June).
Reconstructing the historic Unagala viharaya of Polonnaruwa to facilitate for the Buddhist people to worship was started under President's patronage in the month of December in 2016.
As one of the most prominent projects of "Pibidemu Polonnaruwa" district development program the Unagala Vihara project was completed. The 'Pibidemu Polonnaruwa" program undertakes conservation of all the places with archaeological value in Polonnaruwa district and all the religious places and conduct the development works to fulfill the fundamental needs of these places.
The chaithya of historic Unagala viharaya was illuminated with lights by the President and the first offering of flowers to the chaithya was also performed by him.
The Maha Sangha including Anu Nayaka of Malwathu Chapter Ven. Niyangoda Vijithasiri Thero, the Chief Incumbent of the Somawathi Rajamaha Viharaya Ven. Pahamune Sri Sumangala Nayake Thero, North, North-Central, Eastern Province Chief Sangha Nayaka Venerable Udugama Sri Dhammananda Thera, the Chief Incumbent of the Unagala viharaya Ven. Giritale Gnanissara Nayaka Thera, Ministers and MPs and devotees participated on this occasion.