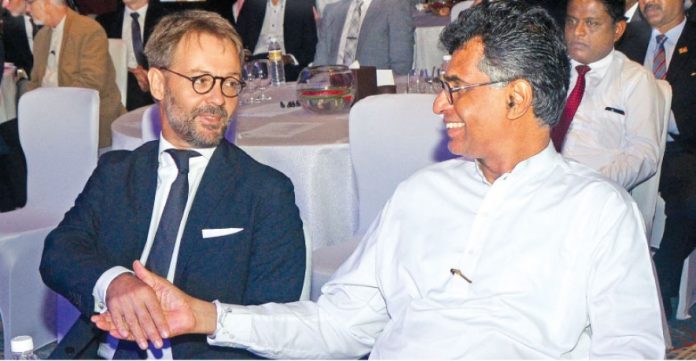 The Ministry of Megapolis and Western Development has commissioned a feasibility study and concept design, which will be funded by the French Government through a grant to the Government . A team of local and foreign consultants in transportation operation, engineering and architecture companies – are working with the Ministry of Mega polis and the French Development agency (AFD – the French Government's development finance institution) to ensure the success of this key project. "Colombo has long been admired as one of the most beautiful cities in South Asia, but today it needs an ambitious and audacious vision to renew itself – one built on the unique identity that our diverse city has developed over the centuries," explained Minister Ranawaka.
"The government of France will support the Sri Lankan government in this feasibility study through a dedicated grant of Rs 166 million ," said Jean-Marin Schuh, Ambassador of France. "French expertise in transportation and urban planning is recognized worldwide and we are proud to share it with Sri Lanka."
"AFD is proud to be a key partner of Sri Lanka to enhance the Western Region Megapolis' liveability, to strengthen its inter connectivity, and ultimately to support its sustainable economic development for the benefit of the Sri Lankan population," said Martin Parent, AFD country Director. "In this endeavour, AFD will be pleased to finance the public share of the investments needed to make this challenging project a reality."
Patrick Ropert, CEO of SNCF Gares and Connexions, the company that owns and operates France's 3,000-strong train stations network and one of the three members of the French consortium, praised "an iconic and strategic project, for which French Railway's integrated approach from design to operations and revenue generation-is a perfect fit."
The Pettah Multi-modal Transport Hub is recognized as a flagship transport project with secretarial integration for long term development. Pettah Multimodal Transport Hub will link coastal and urban railway lines, intercity and local bus stations, Light Rapid Transit, the Port Access Elevated Highway and other strategic development projects such as Port City, Colombo International Financial City. It will connect transport modes, connect the people of Sri Lanka, and shape the future of the city by dramatically improving mobility for all.