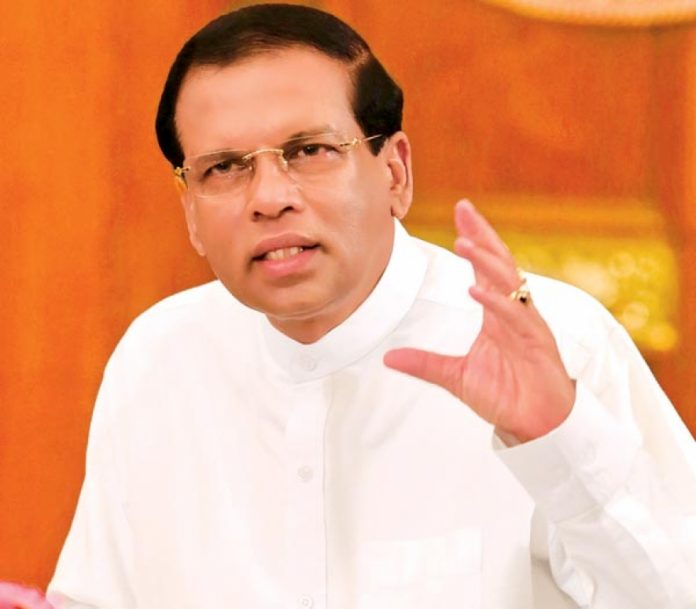 President Maithripala Sirisena yesterday took serious exception to a top Buddhist monk urging former Defence Secretary Gotabhaya Rajapaksa to take over the country as a Hitler-type military dictator. President Sirisena said as a Buddhist he had the highest respect for the clergy, but could not agree with a senior monk of the Asgiriya chapter who invited Rajapaksa to "be a Hitler, take the military and take power."
He said the voters toppled former strongman President Mahinda Rajapaksa because they wanted to end a decade-long iron-fisted rule and win back their personal freedoms. "In January 2015, people did not vote for food or jobs," the President said addressing a meeting Nikawaratiya. "They voted for freedom and democracy. I have restored both and will not allow this country to slip back to a dictatorship."
He was saddened by the call of Ven. Venduruwe Upali Thera who sought a return to an era when citizens were deprived of their basic human rights and any dissent was immediately crushed. "We have restored the freedoms of the people, and media freedom. In fact, these freedoms are being abused and we are attacked without any fear of reprisals, unlike in the past."
He said he was being criticised as a weak leader because he did not oppress the people unlike his predecessor. Former Prime Minister S.W.R.D. Bandaranaike too was criticised using the same language and he was assassinated three and a half years into his term, the President noted. Despite the threats, the President said he will not waver and will not allow the hard-won democracy to be undermined in the country.
The Venerable Upali Thera raised eyebrows with his sermon at a birthday celebration of Gotabhaya Rajapaksa on Wednesday encouraging him to be like a Hitler who slaughtered six million Jews in the Holocaust and take power as the next President of Sri Lanka. The monk prayed that the youngest Rajapaksa sibling will be the next President. "As the clergy, we feel the country needs a religious leader," the monk said.
"Some people describe you as a Hitler," the monk told Gotabhaya Rajapaksa. "Be a Hitler! Go with the military. Take the leadership of the country." He was happy that Gotabhaya Rajapaksa was being mentioned as a potential candidate to be the next president of Sri Lanka. "With the blessings of Mahinda Rajapaksa, people aspire to have Gotabhaya Rajapaksa as a presidential candidate," Venerable Upali Thera said even as two other Rajapaksa siblings in contention — Basil and Chamal – were also in the audience. Gotabhaya's alms giving was held to mark his 69th birthday was attended by opposition MP's, including some SLFP parliamentarians who left the government recently.