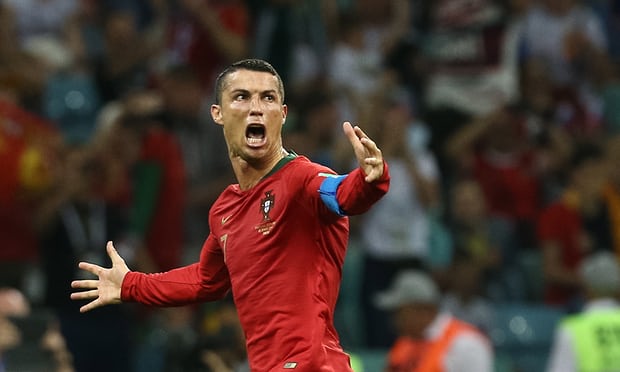 Every World Cup finals needs great players to do great things and there are few who intervene more consistently at the great crossroads of history than Cristiano Ronaldo, king of the big stage and all that happens on it.
Just a hat-trick to declare in this, his 151st cap for Portugal against the great Spain generation of the 21st century, including a third from a free-kick which was one of those moments when he insists that the world stops what it is doing to watch. He hitched up his shorts, shut his eyes for a moment, took a deep breath and then clipped a right foot shot around the wall so accurately that David De Gea did not even spring for it.
This was a World Cup game for all the ages, and if Russia 2018 had so far been about narrow margins and small nations overachieving, then this was the deluxe edition featuring two great sides and ultimately one historical footballer.
These were Ronaldo's 82nd, 83rd and 84th goals of a golden international career over which his game has changed but his contribution to Portugal, a better team that the Euro 2016 winners, but still quite ordinary, has never flagged. There is no side that knows him better than Spain do, no defence with more experience of playing with and against him and yet Ronaldo locates vulnerability wherever he goes and whoever he plays.
These goals meant that he became only the fourth man in history to score in four World Cup finals and the first to do so in eight straight international tournaments, and it is not simply that he did so, it was also that he knew that he had to. He twice gave Portugal the lead, although this was still a great Spain performance at times, coming back through two goals from Diego Costa and then given the lead by Nacho
Portugal led, twice Spain equalised, and then they took a lead that felt like a liberation, but with just one minute to go Cristiano Ronaldo curled in a wonderful free kick to complete a hat-trick and give a superb night an unexpected ending.
Here, Spain found a way. Ronaldo certainly did. Portugal almost got a winner, too, right at the death – twice, in fact – but that would have been harsh on Spain. After the days they have had, it might have hurt them too. And yet here there was little sign of that. Perhaps it was simple: perhaps recovery was always most likely to come here, with the opportunity to get back to what they know: playing football very, very well..