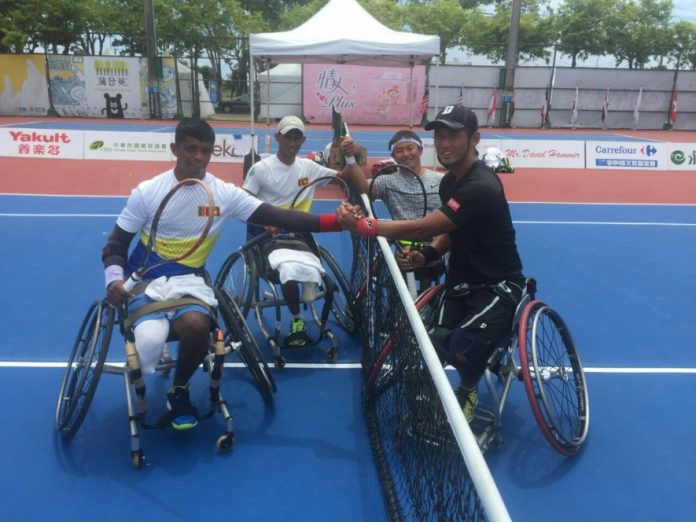 Sri Lanka Army wheelchair Tennis players did exceptionally well and brought honour to country by winning the championship in Men's Doubles at Taipe's International Wheelchair Tennis Tournament – 2018 (WCT).
In the Men's Doubles, Lance Bombardier D.A.S.R Dharmasena of the Sri Lanka Artillery (SLA) and Corporal R.A.L.S Ranaweera of the Gajaba Regiment (GR) won the first set 7 – 5 and the second round 6 – 3. It qualified them to win the title 'Kaohsiung' wheelchair doubles on Saturday (9th June) as the second Grand Slam on the 2018 UNIQLO Wheelchair Tennis Tour.
In the singles, Lance Bombardier D.A.S.R Dharmasena beat the former World Champion, Fujimoto in the semi-finals and grabbed the Runners-up position.
This is the first time that Sri Lanka Army wheelchair tennis players achieved such top places in the Taipe Wheelchair Tennis tournament, for that matter in any international event of fame.
More than one hundred Wheelchair Tennis players, coaches and managers from different countries were associated with the tournament in Taipe.
The UNIQLO Wheelchair Tennis Tour consists of more than 160 tournaments in over 40 countries and distributes over USD 2.5 million as prize money for teams and players.