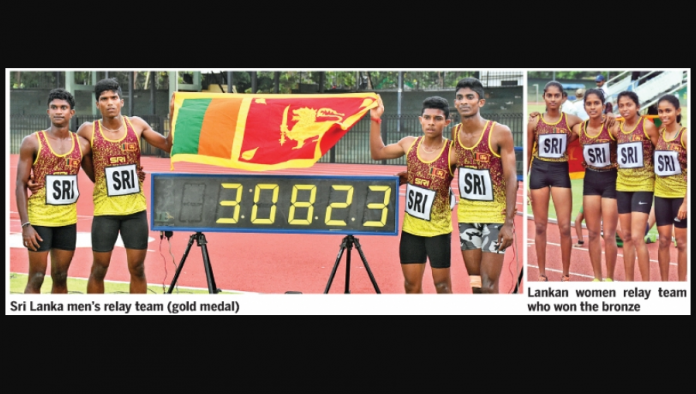 Sri Lanka finished with nine medals – the most in their history at the Asian Junior Athletic Championship concluded in Gifu, Japan yesterdayIn the final medals tally, Sri Lanka's 13-member athletic team won three gold, four silver and two bronze medals to finish fifth in the overall standings. Host Japan dominated taking first place with 14 gold, 15 silver and 13 bronze.
This is huge achievement for Sri Lanka in track and field history and the events worked off yesterday was witnessed by Minister of Sports Faiszer Mustapha. Aruna Darshana established a new Asian record in the 400m clocking 45.79 seconds which as the best timing by a Sri Lankan athlete since 2006.
The second gold was won by Parami Wasanthi of Maris Stella in the 3000m Steeplechase clocking 10:21.54 minutes with a new SL Junior record. The third gold came up in the 4x400m Men's relay team consisting Aruna Darshana , Pasindu Kodikara, Ravishka Indrajith in a time of 3:08.70 minutes.
The sprinter from Kandy Amasha de Silva produced a best performance and clocked her personnel best timing in the 100m and 200m to win silvers in both events.
In the 400m Men's Pasindu Kodikara clocked 46.93 seconds to win the silver while Dilshi Kumarasinghe also won a silver with 54.03 second and in the women's event. It was also their personnel best timing and a new Sri Lanka Junior record. Dilshi also established a new Sri Lanka Junior record winning the 800m bronze clocking 2:04.53 minutes.
The final bronze medal was won by the 4x400m Relay women's team consisting Dilshi Kumarasinghe, Romeshi Attidiya, Amasha de Silva and Sachini Divyanjali in 3:45.16 minutes.