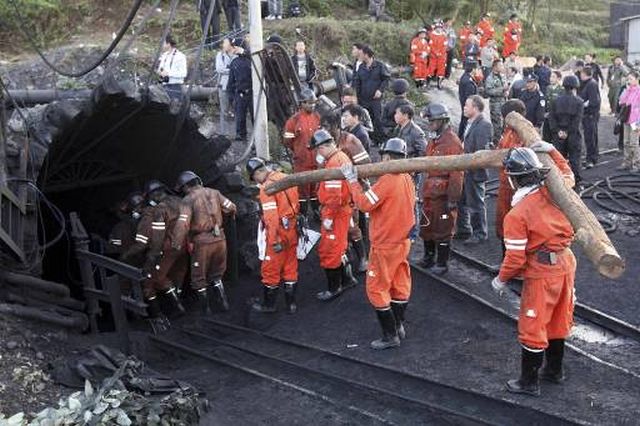 CHINA: Rescuers pulled 23 workers out of a mine in northeast China on Wednesday, hours after they were trapped underground by an explosion that killed 11 and left two others missing, state media reported.
Nine other workers were injured in Tuesday's blast at the iron ore mine owned by Huamei Group, a subsidiary of China National Coal Group Co, in Benxi, Liaoning province.
The blast took place when miners were dropping explosives down the one-kilometre (3,280-feet) -deep mine shaft, destroying the pit's hoisting system, according to Xinhua.
State broadcaster CCTV had earlier reported that a truck carrying explosives had blown up near the mine's entrance as workers were drilling a mining shaft.
Six miners were lifted out of the shaft at 5:20 am on Wednesday and 17 others were pulled up about two hours later, according to Xinhua. All were in good condition.
Authorities were still searching for the two missing miners.
The mine's electricity, ventilation systems and hoisting system were brought back online, Xinhua said.
Deadly mining accidents are common in China, where the industry has a poor safety record.
A gas leak killed at least 18 people working in a coal mine in central Hunan province in May last year.
In December 2016, explosions in two separate coal mines in the Inner Mongolia region and in Heilongjiang killed at least 59 people.
Earlier that year, 33 miners were killed in a colliery explosion in October in the southwestern municipality of Chongqing, and in September at least 18 were killed in a mine blast in the northwestern Ningxia region.
In another incident that captivated the country's attention, four miners were rescued in January 2016 after they spent 36 days trapped in a collapsed gypsum mine in eastern Shandong province.