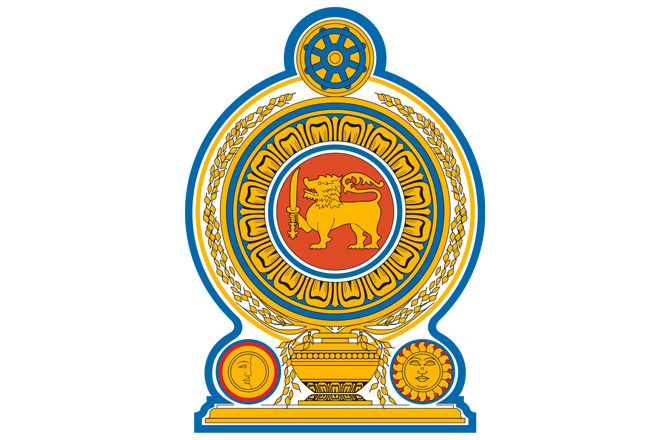 The new Cabinet of Ministers commenced taking oaths before President Gotabaya Rajapaksa a short while ago.
The swearing-in ceremony is taking place at the historic Magul Maduwa (Audience Hall) of the Sri Dalada Maligawa in Kandy with the participation of many dignitaries.
The Sri Lanka Podujana Peramuna (SLPP) led by Prime Minister Mahinda Rajapaksa polled 6,853,690 votes (59.09%) at the General Election 2020 and secured a total of 145 seats in parliament including 17 National List seats.
The new ministerial structure consisting 28 Ministries and 40 State Ministries was announced by President Gotabaya Rajapaksa through an extraordinary gazette notification.
State Ministers
1. Chamal Rajapaksa – State Minister of Internal Security, Home Affairs & Disaster Management
2. Priyankara Jayaratne – State Minister of Foreign Employment Promotions and Market Diversification
3. Duminda Dissanayake – State Minister of Solar, Wind, Hydropower Generation Project Development
4. Dayasiri Jayasekara – State Minister of Batik, Handloom, Textiles and Local Apparel Production
5. Lasantha Alagiyawanna – State Minister of Cooperative Services, Marketing Development and Consumer Protection
6. Sudarshani fernandopulle – State Minister of Prisons Reforms and Prisoners' Rehabilitation
7. Shehan Semasinghe – Samurdhi, Micro Finance, Self-Employment and Business Development
8. Vidura Wickramanayake – National Heritage, Performing Arts and Folk Art Promotion
9. Arundika Fernando – State Minister of Coconut, Kithul, Palmyra and Rubber Crop Promotion & Related Export Diversification
10. Nimal Lanza – State Minister of Rural roads and Infrastructure
11. Jayantha Samaraweera – State Minister of Container Terminal, Port Facilities, Boats and Shipping Industries Development
12. Roshan Ranasinghe – State Minister of Land Management Affairs, State Enterprise Lands and Property Development State Minister
13. Sanath Nishantha – State Minister of Development of Rural and Regional Water Network
14. Sarath Weerasekara – State Minister of Provincial Councils and Local Government
15. Anuradha Jayaratne – State Minister of Rural Paddy Fields and Tanks, Reservoirs and Irrigation Development
16. Piyal Nishantha – State Minister of Women and Child Affairs, Pre-School and Primary Education, School Infrastructure and Education Services
17. Kanaka Herath – State Minister of Tea Estate Plantation Crops and Tea Export Promotion
18. Prasanna Ranaweera – State Minister of Cane, Brass, Clay, Furniture and Rural Industry
19. D.V. Chanaka – State Minister of Aviation Services and Development of Export Zones
20. Tharaka Balasuriya – Regional Cooperation
21. Indika Anuruddha – Rural Housing and Construction
22. Mohan de Silva – State Minister of Regulation of Fertilizer Production and Supply, Use of Chemical Fertilizer and Pesticides
23. S. Viyalendran – State Minister of Professional Development in Postal Services and Media
24. Thenuka Vidanagamage – State Minister of Rural and School Sports Infrastructure
25. Sisira Jayakody – State Minister of Promotion of Indigenous Medicine, Development of Rural and Ayurvedic Hospitals
26. Kanchana Wijesekara – State Minister of Fisheries, Freshwater, Fish, Multi-Day Fisheries and Fish Exports
27. Wimalaweera Dissanayake – State Minister of Wildlife Conservation, Re-responsibility of Forest Resources
28. D.B. Herath – State Minister of Livestock Farm Promotion and Dairy related Industries
29. Shasheendra Rajapaksa – State Minister of Paddy, Organic Food, Vegetables, Fruits and High-Tech Agriculture
30. Nalakda Godahewa – Urban Development, Coast Conservation, Waste Disposal and Public Sanitisation
31. Jeevan Thondaman – State Minister of Estate Houses and Community Infrastructure
32. Seetha Arambepola – State Minister of Skills Development, Vocational Education, Research and Innovation
33. Channa Jayasumana – State Minister of Manufacture, Supply and Regulation of Drugs
34. Ajith Nivard Cabraal – State Minister of Finance and Capital Market and State Enterprise
35. Vijitha Berugoda – State Minister of Dhamma Schools, Bikkhu Education, Piriven and Buddhist Universities