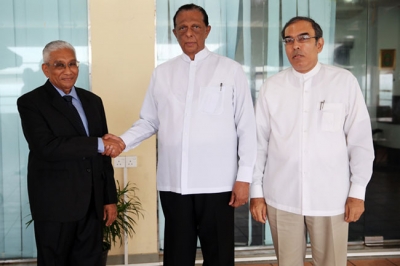 The Ministry of Tourism Development and Christian Religious Affairs announced the appointment of Mr. Dehan Seneviratne as Chairman of the Sri Lanka Tourism Promotion Bureau (SLTPB) with effect from yesterday (4th June).
A veteran in the marketing field, Mr. Seneviratne takes over as Chairman of SLTPB at a crucial juncture with the long-awaited global promotion campaign about to get off the ground, the ministry said.
Mr. Seneviratne was officially welcomed by Minister of Tourism Development and Christian Religious Affairs, John Amaratunga at his office last morning, the statement said.
With more than 40 years of experience in multinational companies covering many senior positions one of Mr. Seneviratne's key achievements has been securing a 92% market share for 'Panadol' while serving at GlaxoSmithKline Consumer Health where he held the positions of Director Marketing and Sales, Director Corporate Affairs and Medical Marketing, and Acting Chairman/Managing Director.
He has also served as Director/Chief Executive Officer of Mackwoods Healthcare and as Marketing Consultant for ID Lanka Ltd. He is a former President of the Sri Lanka Institute of Marketing and an Honorary Member of SLIM.
He holds a Post Graduate Diploma in Marketing from the Chartered Institute of Marketing UK and a Master's Degree in Business Administration from PIM, University of Sri Jayawardenapura.
Meanwhile the two newly appointed Monitoring MPs for Tourism, Harshana Rajakaruna and Sanjaya Perera called on Minister Amaratunga at his office this morning. The Monitoring MPs have been tasked with assisting the Minister to oversee the departments functioning under the Ministry.
Speaking during a brief ceremony to welcome the new Chairman and Monitoring MPs, Minister Amaratunga called on all staff working at Sri Lanka Tourism to put country above all else and rededicate themselves to the tasks entrusted to them in order to achieve greater success for the tourism industry, the statement added.