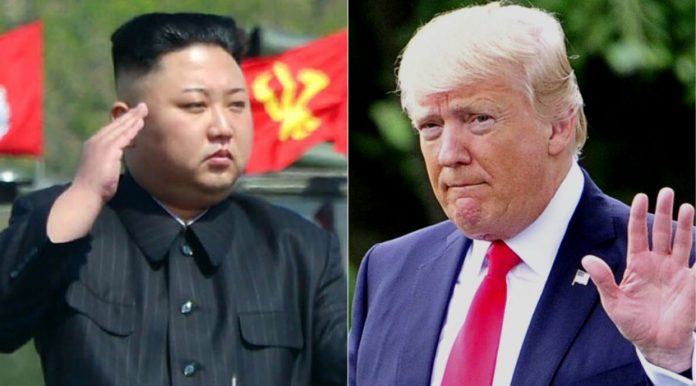 US: US President Donald Trump said Friday he will meet North Korea's Kim Jong Un as originally scheduled on June 12 for a historic summit after extraordinary Oval Office talks with a top envoy from Pyongyang.
After more than an hour of discussion with Kim Yong Chol, Trump told reporters that denuclearization — and a formal end to the decades-old Korean war — would be on the table in Singapore.
But the US president warned that he did not expect to immediately sign a deal to bring a halt to the reclusive regime's nuclear program.
"I never said it goes in one meeting. I think it's going to be a process, but the relationships are building and that's very positive," he said, after waving farewell to the North Korean leader's right-hand man.
The Korean War has been largely frozen since an armistice ended hostilities, but not the underlying conflict, in 1953. Since then, there have been occasional clashes on the divided peninsula.
"We talked about ending the war," Trump said.
"Historically it's very important, but we'll see. We did discuss that, the ending of the Korean War. Can you believe we're talking about the ending of the Korean War?"
Washington is determined that Kim should agree to what US officials call the "complete, verifiable and irreversible" end of North Korea's nuclear weapons and intercontinental missile programs.
Kim says he is committed to "denuclearization" in some form, but he is expected to demand security guarantees in return.
Most expert observers are skeptical that even an unprecedented summit between the two leaders can lead to a rapid breakthrough, and Trump admitted it would be a long and difficult process.
"We're not going to go in and sign something on June 12. We never were. I told him today, 'Take your time'," he said, adding nevertheless that he expects "a really positive result in the end."
Kim Yong Chol, the most senior North Korean to visit the United States in 18 years, spent almost 90 minutes in the Oval Office.
Afterwards, Trump and US Secretary of State Mike Pompeo walked the North's small delegation to their cars, smiling and shaking hands in front of the media before the motorcade pulled away.
North Korean officials said Kim Yong Chol was expected to return to Pyongyang shortly. Meanwhile, discussions between US and North Korean officials continue in Singapore and in the Demilitarized Zone between North and South Korea.
On Thursday, Kim Jong Un told Russia's Foreign Minister Sergei Lavrov that his commitment to denuclearization remains "unchanged and consistent and fixed," but experts warn he will seek concessions from Washington.
In addition to an end to the war, he is likely to want international recognition as well as guarantees against any strike by the US forces stationed in South Korea.