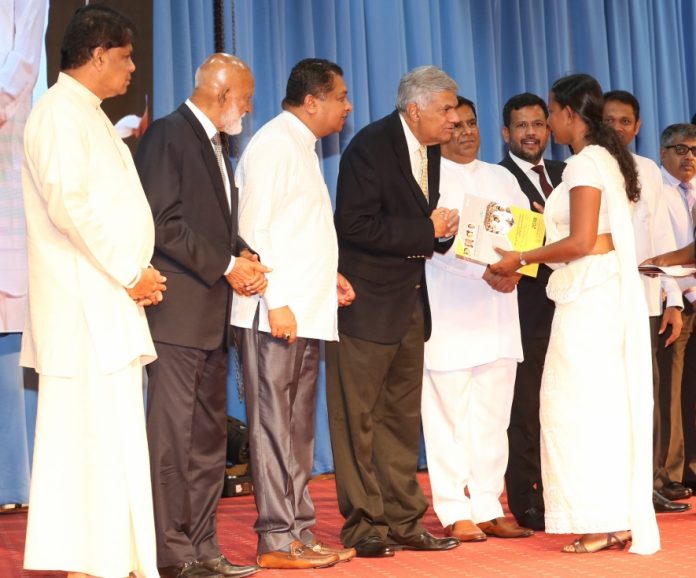 An expedited development programme will be carried out at village-level in the remaining 18 months of the Government's term, Prime Minister Ranil Wickremesinghe said.
Addressing an event at Temple Trees yesterday to handover appointments to 1,668 new Grama Niladari Officers, the Prime Minister said the Government has allocated Rs.80 billion for village-level development activities.
"For the last two years we have been re-building the country grappling with a collapsed economy and education system. We have now been able to stabilize the economy. In the next 18 months left for this Government, we have decided to concentrate on village-level development through Grama Niladari Officers and Divisional Secretaries," the Prime Minister said.
He said he advised all ministers to identify priority development projects and fully focus on them until the end of 2019. "That is what people expected from us. They voted us for that. Re-building a country is not an easy task. That is why we decided to launched this expedited programme," he added.
The PM said that he had instructed the ministers to concentrate on the development work without getting involved in all issues coming their way. "We have issues. We are trying to resolve them. It is normal to have problems in politics," he said.
The Premier said construction and renovation of road network, repairing small irrigational tanks under the "Gamperaliya" project, increasing loan facilities for self employment, tourism sector development and facilitating training and job opportunities at private institutions are being focused under the expedited development plan.
He pointed out that eventhough the Government had plans to carry out these development activities in 2017, unexpected disasters such as floods, drought and the collapse of Meethotamulla garbage mound deferred the Government's plans.
He said educational reforms would be implemented within this year and that the smooth functioning of law and order will be ensured.
Home Affairs Minister Vajira Abeywardena said a service constitution for Grama Niladari Officers has been formulated for the first time and that it would be presented for the Cabinet approval shortly.
"There had not been a service constitution for GN officers since 1960s. The PM approved the draft prepared by us and it has now been referred to the Trade Unions," he noted.
"The basic salary of a GN officer in Grade III was 13,000 in 2015. By January 2018 we raised it upto Rs.22,960. By 2020, this will further rise to Rs.28,940. The salary of Grade II GN officer, which was Rs 15,000 in 2015, has been increased to Rs 25,618 as at now and it will rise to Rs. 32,290 by 2020. The salary of Grade I GN officer was Rs. 17,000 in 2015 and it is Rs.28,830 now. This will increase to Rs.36,350 in 2020," said Minister Abeywardena asking any TU member in the audience to disagree if the facts were wrong.
"We revived the public sector. Your duty is to implement the Government policies. You may hold different opinions and views, but you are bound to implement the Government policies as per the Establishment Code. You cannot say that you are not here to do what the Government says. Do not weaken the state mechanism and do not sabotage the Government work," he advised the newly appointed GN officers.