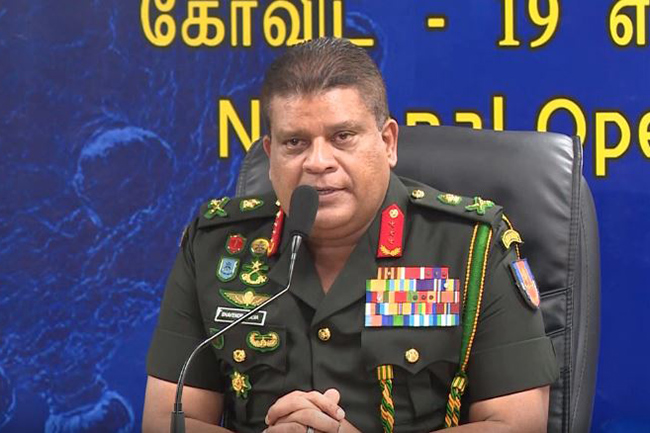 A total of 492 COVID-19 cases have been confirmed from the Treatment and Rehabilitation Centre – Kandakadu so far, according to Lieutenant General Shavendra Silva – Acting Chief of Defence Staff and Army Commander.
"Among the COVID-19 cases confirmed yesterday, altogether there were 96 infections from the Kandakadu Rehabilitation Centre. So far with regard to the Kandakadu rehab centre, we have found 492 COVID-19 positive cases in total," Lieutenant General Shavendra Silva told media on Monday (July 13).
According to the Army Commander, of the 492 cases, 16 are close contacts of the instructors and inmates who tested positive for COVID-19.
"Kandakadu Rehabilitation Centre has been the topic of discussion these days. This centre is regulated under a Director-General of Rehabilitation of the Ministry of Justice. This is not an army camp, this is a rehabilitation camp that is operated under the Ministry of Justice," the Army Commander emphasized.
According to the Government Information Department, 106 COVID-19 infections were confirmed on Sunday (July 12) and the new cases included six residents from Rajanganaya.
"All the instructors who went on leave are being brought back to quarantine centres. Few cases were confirmed from Rajanganaya yesterday. They were people who visited the inmates and contacts of the instructors who went on leave. Since they had travelled, there could be some cases confirmed from various places in the coming days. We believe such new infections will be confirmed within the next couple of days," the Army Commander noted.
Further commenting on the matter, the Army Commander said the situation was brought under control with contact tracing and quarantine measures in place.
"So far we have brought the situation under control, and we request the people of Sri Lanka to adhere to the instructions issued by the health sector with regard to COVID-19, so we could prevent the virus from spreading within the community," Lieutenant General Shavendra Silva further requested.