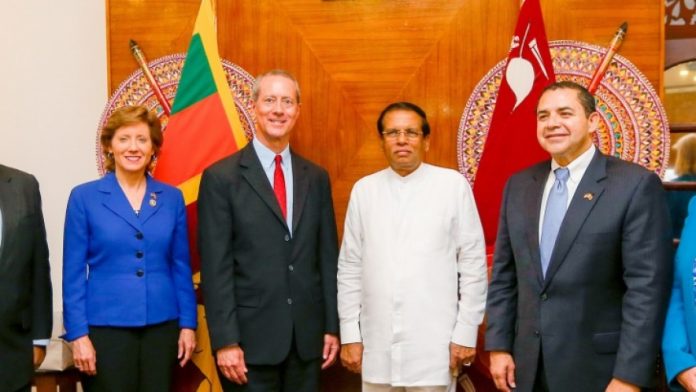 A U.S. Congress delegation from House Armed Services Committee met President Maithripala Sirisena at the President's Official Residence, today (30th). The delegation comprised of Chairman of the House Armed Services Committee, Mac Thornberry, Henry Cuellar, Vickie Hartzler and Carol Shea-Porter.
During this meeting, the President said that Sri Lanka is a country, which will work with cooperative and friendly manner with the international community. He recalled the assistance given by the U.S in training Sri Lankan forces.
Military training programmes are being conducted between the U.S. and Sri Lanka routinely, the President said, pointing out the necessity of using more technological knowledge to further promote these programmes, and emphasized that there is no defence without the technology in the modern world.
President Sirisena said that the cooperation of the United States Security forces is important to control the ways that drugs smuggled into the country and for that the cooperation between countries are also of utmost importance The Congress committee members who agreed to provide assistance to prevent drug trafficking in Sri Lanka mentioned that it is their country's policy to give necessary assistance in order to build Sri Lanka as a strong and prosperous country.
The delegates stated that the internal security of Sri Lanka is important for the regional security and the world peace, and mentioned that the expectation of their Sri Lankan tour is to find out the actions required to strengthen the security and cooperation between both countries and the armed forces.
Austin Fernando, Secretary to the President, Prasad Kariyawasam, Secretary to the Ministry of Foreign Affairs, Atul Keshap, Ambassador of the United States to Sri Lanka, and other official joined this event.