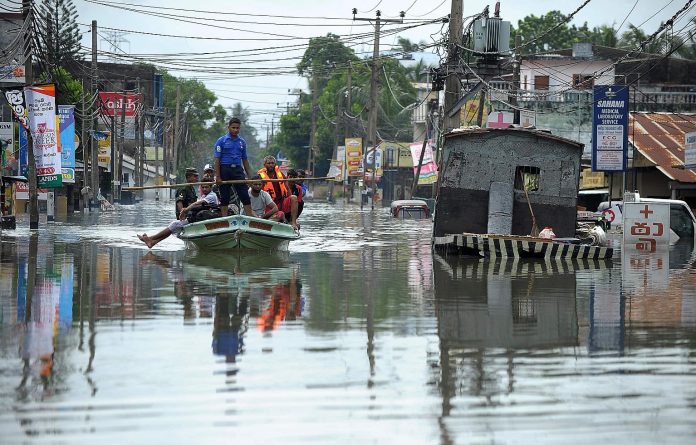 Hundreds of Army troops across the flood-affected districts of Kegalle, Kalutara, Polonnaruwa, Kandy, Galle, Ratnapura, Gampaha, Puttalam, Matara, Kurunegala, Badulla, Colombo and elsewhere continue their rescue and relief operations in close coordination with Disaster Management Centre, District and Divisional Secretariats at the time this report was pasted on Friday (25) evening.
19 members of the 9 Gemunu Watch troops of the 582 Brigade under the 58 Division on information that a feeble old woman living near a landslide prone house in the general hilly area of Yatagampitiya in Bulatsinhala, rushed there braving knee deep flood waters and rescued her before she was brought down to the safe area on a wheelchair to be sheltered in the Yatagampitiya Primary School on Friday (25). Troops of the same Brigade assisted Bulatsinhala Divisional Secretariat Office to pack up dry ration stocks, made available by Cargills (Pvt) Ltd for free distribution around 7.00 pm on Thursday (24).
On the directions of the Commander of the Army, Lieutenant General Mahesh Senanayake, all Security Force Headquarters, Divisions and Brigades across the island began to rush troops to island-wide vulnerable areas to provide relief and engage in rescue operations, if necessary in the wake of worsening weather conditions due to heavy rains that commenced around 20 May 2018 while mobilizing another group of soldiers to be alert to the worsening weather conditions.
Similarly, 1200 troops belonging to 24 regiments of the Army were meanwhile kept on standby to meet with any eventualities as rainy weather began to worsen in the past couple of hours.
Troops while attending to the priorities supported distribution of cooked meals, evacuation of victims from locations under water, stacking of sand bags to avoid bank splitting, immediate repair works, etc in worst-affected areas as situations warranted. 8 SLLI troops of the 141 Brigade meanwhile last evening (24) rushed to Ragama Rehabilitation hospital premises and cleared a fallen tree that has destroyed a part of a building.
In addition, 9 (V) SLLI troops of the 142 Brigade cleared a blockade near the Ambathale Water pump. Army troops of the 14 Division in the face of threatening floods and increasing water levels quickly responded to an SOS need Thursday afternoon (24) and rushed to Kaduwela Kelani river bridge area, said to have been affected due to torrential rains and constructed a detour arrangement.
8 Sri Lanka Light Infantry (SLLI) troops with Road Development Authority (RDA) officials and workers started repairing and readjusting the parallel old bridge since sideways of the bridge in use are faced with soil erosion and possible earth slips.
Lieutenant General Mahesh Senanayake, Commander of the Army who has been in close touch with the developing inclement weather patterns and emergency relief operations has directed all Army formations across the island to prepare emergency contingencies to meet with any eventualities in close coordination with respective Disaster Management authorities and Divisional Secretariats.
In the Western Province, 141 Brigade troops rushed a team of about 12 Army personnel of the 8 Sri Lanka Light Infantry (SLLI) for protection of the Kelani river bund, close to Pahuru Oya area in Malwana on Thursday (24) since the water has begun to spill. Troops stacked sandbags and fortified against the leakage and averted its split.
Meanwhile, 111 Brigade troops of the 11 Division of the Security Force Headquarters – Central (SFHQ-Cen) assisted the evacuation of flood victims in Nawalapitiya area to safer locations. Troops serving the 2 Sri Lanka Rifle Corps (SLRC) of the 111 Brigade Commander evacuated those civilians who are largely exposed to landslips in Kithulkotei, Jayasundaragama and Labuvalikotuwa areas in Nawalapitiya to Central College Nawalapitiya, Jayasundarama Islamic Cultural Center and the Mosque at Labuvelkotuwa.
Similarly, the families residing in Solankanda area were also helped to move into temporary locations, such as the Solan Kanda Christ Church, etc.T rops of the 16 Gajaba Regiment of the 143 Brigade in liaison with Divisional Secretariat officials at Mahawewa on the directions of the General Officer Commanding of the 14 Division supported the distribution of relief meal parcels, inclusive of rations, water bottles, dry rations, sanitary items and other daily needs to the victims in Iranawila, Uddappuwa, Pathawewa and Walahapitiya after brief programmes were held at respective villages in Puttalam District on Thursday (24).
40 families received essentials during the arrangement organized by the 143 Brigade troops and civil authorities in Puttalam. Those displaced victims are housed in several places and those families were provided their basic needs by the government and various other agencies.
In the meantime, a pregnant woman, stranded due to ravaging floods in the general area of Thoduwawa, Marawila, received the timely intervention of Army troops of 16 Gajaba Regiment (GR) of the 143 Brigade under the 14 Division on Tuesday (22) evening while the troops were conducting emergency rescue and relief operations elsewhere in close proximity to that area. Troops were informed by another flood victim that a lonely house, situated away from theirs has had a pregnant woman before the floods inundated the area but villagers are unaware as to what has happened to her after the floods. Troops managed to evacuate her using a truck and got her admitted to the hospital at Marawila. (See separate story)
Meanwhile, Army troops of the 16 Gajaba Regiment (GR) of the 143 Brigade of Colombo-based 14 Division under the Security Force Headquarters – West (SFHQ-West)Wednesday (23) evening hurried to flood-threatened Moriyakulama area in Karuwalagaswewa and prevented any imminent complete burst of the Moriyakulama agricultural canal's bank by stacking as many sand bags as possible along most vulnerable patches. Troops were also supported by villagers during the whole operation.
Meanwhile, 582 Brigade troops carrying out rescue and relief operations in Wagawaththa area in Horana assisted a group of monks to go for an alms-giving by providing a WMZ tank since floods have inundated the roads in the area.
Likewise, following heavy storms that swept across Kurunegala District in the past 48 hours, the situation turned worse prompting 143 Brigade troops of the 14 Division under the Security Force Headquarters – West (SFHQ-West), to run to Nikaweratiya, Rasnayakapura and Polgahawela areas and begin rescue operations with the support of local authorities and members of the public.
In the meantime, Army troops attending rescue operations at Rasnayake Divisional Secretariat area, where several line houses are damaged, facilitated the victims for relocation at the community centre in the village and provided some refreshments, dry rations and sleeping bags for children.
Meanwhile, members of the Army have been sent to the general area of Udunowa tank in Nikaweratiya to be alert to the swelling water levels in the Deduru Oya. A total of 16 Army personnel of the 1 Sri Lanka National Guard were busy stacking sand bags along the vulnerable points that could spill water over tank bunds.
Lieutenant General Mahesh Senanayake, Commander of the Army paying highest priority to the disaster situation in the country has instructed Chief of Staff and Director Operations and other relevant Senior Officers to monitor developments and implement all necessary measures in close cooperation with state agencies and respective local authorities as necessary.
More than 500 members of the Army, together with members of the other state agencies are currently engaged in flood relief emergencies in worst-affected areas while another four-digit number is on standby.
Another contingent of about 5000 Army personnel, if needed are on standby in flood-hit areas in close contact with the Disaster Management Centre (DMC) and respective District and Divisional Secretariats to face any emergencies.
eanwhile, a big tree that has fallen in the general area of Pahiyangala temple was removed by the 9 GW troops Wednesday morning (23) restoring transport movements. More than 15 Army personnel attended to the job with machineries.