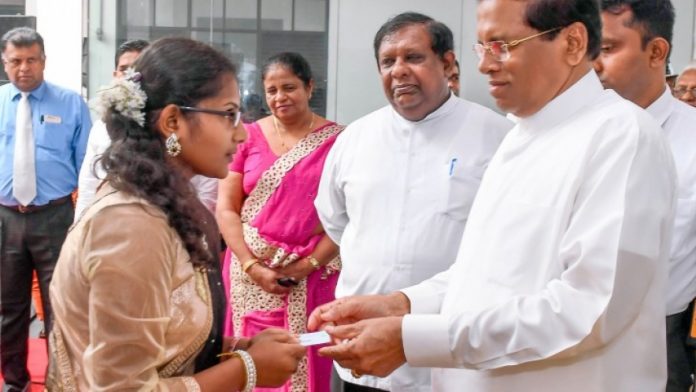 Uva Provincial Library named after Agga Maha Pandita Most Ven. Davuldena Gnanissara Thera under President's patronage A ceremony was held under the patronage of President Maithripala Sirisena to name the Uva Provincial Library after Agga Maha Pandita Most Venerable Davuldena Gnanissara Nayake Thera, today (21).
The President unveiled the plaque, which contained the name of the Most Venerable Davuldena Gnanissara Thera and he also launched the automation of the library project. The first few membership cards of the library were presented by the President to the members.
The book on Uva Provincial Library Service Board and a CD compiled regarding the Gnanissara Maha Nayaka Thera was presented to the President by Mrs. Manel Ratnayake, Chairperson, Uva Provincial Library Services Board.
Minister Nimal Siripala de Silva, State Minister Lakshman Seneviratne, former Minister Dilan Perera, the Chief Minister of Uva Province, Chamara Sampath Dasanayake, Mayor of the Badulla Municipal Council, Priyantha Amarasiri and others participated in this event.
Meanwhile, President Maithripala Sirisena joined a personality development training programme titled as 'Anagataya Dinana Daruwo' held at the Badulla Town Hall, organized by the Daruwan Surakimu (Let's Protect Our Children) National Programme implemented under the Presidential Secretariat.
Building a child, who will be able to triumph over challenges, increasing the nutritional level of the children, utilization of psychological methods and modern technological methods to prevent child abuse and enhancement of abilities of parents to protect their children are among the main objectives of the 'Anagataya Dinana Daruwo' programme being implemented across the country.
Senior Consultant Psychiatrist, Dr. Chaminda Weerasiriwardena delivered the special lecture at this programme and the consultant Obstetrician & Gynecologist, Dr Nawaz Jiffry and Consultant Psychiatrist, Dr. Chathura Abeysooriya also delivered lectures at this event.
Presentation of scholarships for the A/L students who lost their parents due to the kidney disease, providing of aids to the underprivileged families and distribution of water purification systems for the people in vulnerable areas for the kidney disease were held on this occasion. President Sirisena provided financial assistance to renovate eight orphanages in the Uva Province.
The President handed over the agreement to, commence the Island-wide project to measure the quality of drinking water supply to school children, in Uva Province, to the Uva Province Director of Health Services, Dr. Nimal Shantha Gamagedara.
Mr. P.B.Wijayarathna, Chief Secretary, Uva Province, Senior Additional Secretary to the President Rohana Keerthi Dissanayake and others participated on this occasion.
Meanwhile, the little girl, M.N. Amani Raidha, who came to Colombo with her parents from Badulla to meet the President, also met with President Sirisena at this event. As promised, the President visited the residence of young Amani Raidah in Badulla recently.