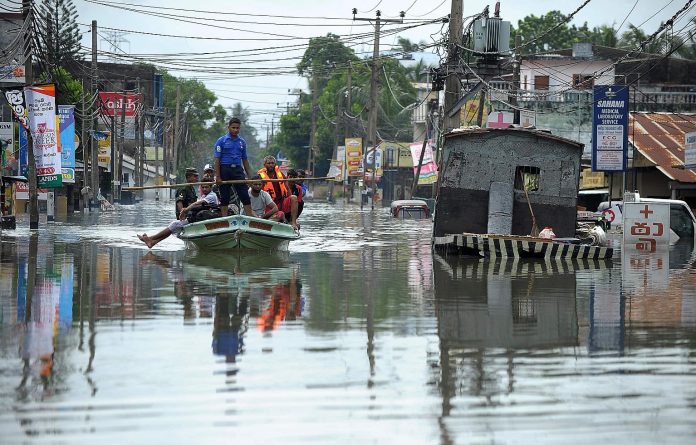 At least 172 people including nine pregnant women, marooned by the flood waters, were rescued by the Navy. Navy Spokesman Dinesh Bandara said 130 flood victims in Walalawita, 21 in Nikawaratiya, nine pregnant women in Kalawana, nine people at Serathkuliya in Anamaduwa and three in Giriulla were among those rescued.
He said 38 naval teams were deployed in eight districts to assist in the rescue and relief operations.Commander Bandara said some 100 Navy personnel were deployed for the operation while navy personnel from the Special Boat Squadron (SBS) had been deployed to clear the blocked Wakwella Bridge in Galle. He said SLN diving teams were also deployed in Raddolugama.
Meanwhile, the Army said more than a hundred Army troops were deployed in flood and landslide affected areas across the country for relief and rescue operations.Army Spokesman Sumith Attapattu said three- wheeled armored personnel carriers (WMZ) and several boats were on standby for any emergency situations.
Army Commander Mahesh Senanayake had instructed Director Operations of the Army Headquarters and other relevant Senior Officers to monitor the development and take all necessary measures in close cooperation with state agencies and respective local authorities. Air Force Spokesman Gihan Seneviratne said SLAF aircraft and rescue teams are in full readiness for deployment in rescue and relief operations.