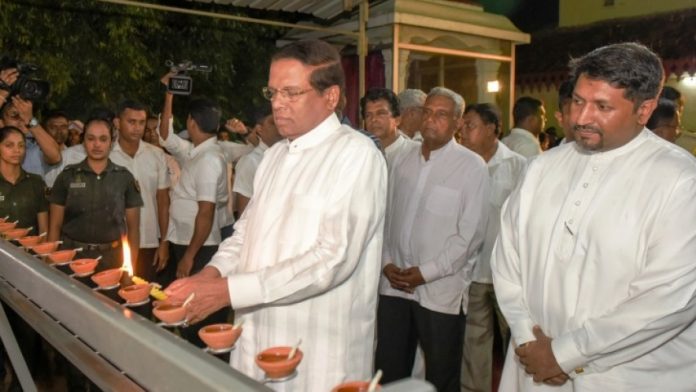 President Maithripala Sirisena participated in 'Aaloka Pooja' (lighting of lamps) ceremony at Kelaniya Raja Maha Viharaya on Saturday (19) evening to coincide with the main ceremony on National War Heroes' Day at Battaramulla.
This was held with the participation of the armed forces, Police and Civil Security Department to commemorate all fallen War Heroes who laid their precious lives in the battle against LTTE terrorism. The lighting of 28,619 lamps to mark the number of lives sacrificed by the armed forces was a move unprecedented in living memory.
President Maithripala Sirisena, State Minister of Defence, Ruwan Wijewardane, Chief of Defence Staff, Commanders of the Army, Navy and Air Force, Inspector General of Police and Director General, Civil Security Department and a representative gathering of next of kin of fallen War Heroes participated in this religious event.