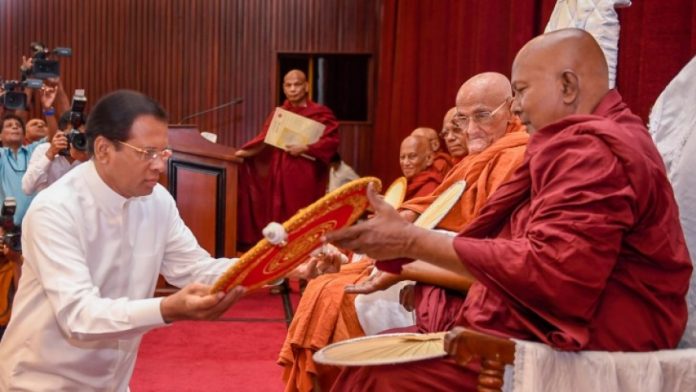 President Maithripla Sirisena stated that the duties and responsibilities towards Buddhism and the Sangha will be fulfilled under the guidance of three Buddhist Nikayes and the Mahasangha.
Much of work has been done on behalf of these noble objectives and it will be conducted further as well, said the President.
President Sirisena stated this after offering the citation of appointment to Ven. Matale Dhammkusala Thero, who has been appointed as the Anunayake of the Sri Lanka Ramanna Maha Nikaya, at the Bandaranaike Memorial International Conference Hall (BMICH) on 17th May.
This position was offered to Ven. Matale Dhammkusala Thero, who is a skilled and erudite monk who has accomplished a great deal of service to the Buddhism and the community.
The President, who addressed the event further stated that the present government is ready to work towards the needs to make a better society.
President Sirisena, who appreciated the service provided by society by Ven. Matale Dhammkusala Thero, who is an expert in Disciplinary Code and an expert in Buddhist discipline to the Buddha Sasana and society, stated that he is an exemplary character to the new generation as well as the Bhikku Sasana.President offered the Vijinipatha (traditional fan) to the Thero.
The edition "Kusumanjalee, the Matale Athipujya Matale Kusaladhamma Thero" was offered to President Sirisena by its editor, Ven. Taldena Ariyawimala Thero, Senior Lecturer of the Department of Pali and Buddhist Studies, of Ruhuna University.
Head of the Ramanna Nikaya Ven. Napana Premasiri Nayaka Thero, Malwatta Maha Vihare Deputy Secretary Ven. Dimbukumbure Sri Saranankara Wimadhamma Thero, Maha Nayaka of Sri Lanka Amarapura Nikaya, Ven. Kotugoda Dhammawasa Thero and the Mahasangha and speaker Karu Jayasuriya and ministers were present in this event.