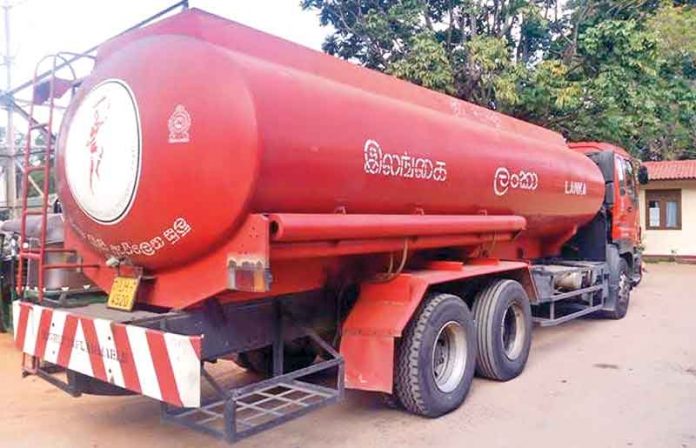 Minister of Petroleum Resources Development Arjuna Ranatunga says the state's fuel storage unit – the Ceylon Petroleum Storage Terminals Limited (CPSTL) incurred a Rs. 9 million loss on the day fuel prices were raised due to fraud.
He said the Ministry has decided to identify the officers responsible for the fraud and to punish them severely after the preliminary inquiry has ended.He was responding to a question posed by a journalist at a function held at the Gampaha Divisional Secretariat today (16).
The government increased fuel prices with effect from the midnight of May 10th and officially announced the decision on the same morning. The Minister explained that the issue of daily fuel stocks under the Same Day System is temporarily suspended from the time the price increase is announced to the time the price of fuel actually increases in order to prevent the filling station owners buying the fuel at low price and selling it to the consumer at a higher price.
Preliminary investigations have revealed that on Friday, 11th May, the CPSTL has issued 74 fuel bowsers- 52 bowsers from Kollonnawa storage and 22 bowsers from Muthurajawela storage.Due to this the CPSTL incurred a loss of Rs. Rs. 6,580,200 from Kollonnawa terminals and Rs. 2,468,400 from Muthurajawela amounting to a total loss of over Rs. 9 million.
In addition, the investigations have revealed that the fuel stocks including petrol, diesel and kerosene have been issued at some local depots under the Same Day System.
Minister Ranatunga said the officers responsible for the fraud will be identified and they will be handed over to the Financial Crime Investigation Division (FCID) for onward action. "All the officers linked with the incident will be charged irrespective of their background," he said."Actually, this kind of fuel racket is something that has been going on for years- stealing from tanks, mixing fuels," the Minister said Minister Ranatunga said he will take stern action against such fraud. "We will enforce the law strictly, regardless of the status of the fraudsters.
Speaking further Minister Ranatunga said the fraud has been executed circumventing the regular procedure.
Certain filling stations have received fuel stocks that are not normally distributed within a week in few hours. At the same time some filling stations did not receive fuel even after they paid for the stocks on previous day while some other received fuel an hour after they paid. However, we get attacked when we try to stop this kind of fraud," he added
"This is a total fraud. A comprehensive investigation is underway to identify the responsible officers for the fraud," the Minister said.