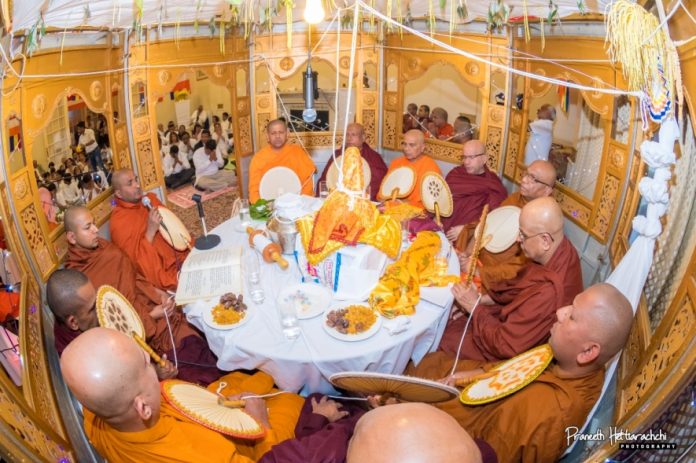 The High Commission of Sri Lanka in London, held its Annual Pirith Chanting Ceremony on 10th May followed by a Heel Dana (morning almsgiving) on 11th May 2018 to commemorate Vesak with the participation of the Sri Lankan community living in the United Kingdom.
The religious ceremonies were conducted under the guidance of the Chief Sanghanayake of Britain, Ven. Bogoda Seelawimala Nayaka Thero. Thirty-three venerable members of the Maha Sangha representing the Sri Lankan Buddhist temples around the country participated in the religious ceremony. Speaking on the occasion, Ven. Bogoda Seelawimala Nayaka Thero observed that this was the first occasion that a large congregation of Sri Lankan Buddhist Monks of this nature had taken place.
A 'Pirith Mandapa' was set up at the High Commission and the building was decorated with colourful Vesak lanterns, Buddhist flags, lamps, and other decorations associated with the traditions of the Vesak Day.
A traditional Sri Lankan dinner was made available to the Sri Lankan community attending the Pirith Ceremony.
There are 27 Theravada Buddhist temples in the United Kingdom administered by Sri Lankan Buddhist monks.