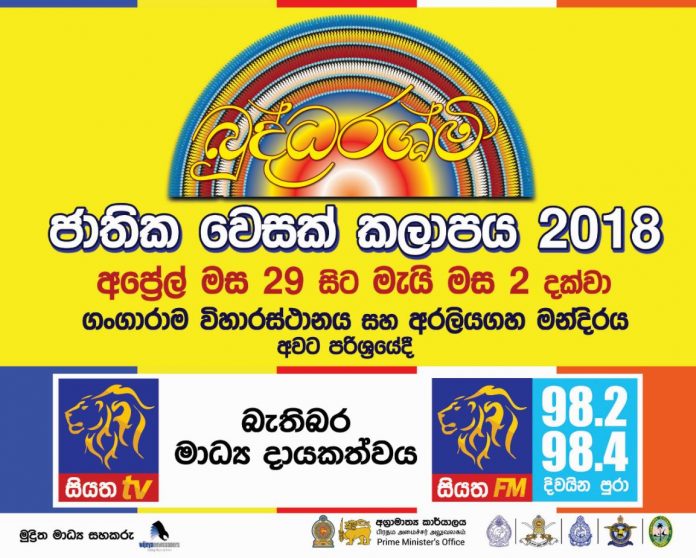 Hunupitiya Gangarama Temple together with the Prime Ministers office organizes the Buddha Rashmi National Vesak Region – The Biggest Vesak Festival of it's kind in Sri Lanka from the 29th April to 02nd of May in the vicinity of the Gangarama Temple, Bere lake and the Temple Trees.
Buddha Rashmi National vesak region will also comprise of a special display of Scared relics of Buddha from Sarnath temple in India and Sacred relics from Pakistan and other ancient relics from Nepal, Bhutan and Sri Lanka which will be on public display at the Temple Trees during the days 29th, 30th April and the 01st and 02nd of May with the opening ceremony taking place at the Temple Trees on the 29th of April at 7pm with the attendance of President Maithripala Sirisena and the Prime Minister Mr. Ranil Wickramasinghe.
For the first time in Sri Lanka, visitors will be able to get access to worship the Sacred Relics of Gauthama Buddha currently in possession of the famous Mulaghandha Kuti Temple in India, Sacred relics found from archaeological discoveries in 1913 -1914 in Pakistan along with sacred relics found in 1929 from madras, 9  ancient relics found from Nepal, and 4 ancient 16th century statues of buddha from Bhutan.
26 Government institutions and 7 Provincial councils will be getting involved in the Buddha Rashmi Vesak Region which will showcase two breathtaking Vesak Pandols and 220 Vesak Lanterns in addition to the sacred relic showcasing at the Temple Trees.
Siyatha TV of Voice of Asia Network (Pvt) Ltd will be broadcasting the exclusive Media coverage of the event as the Official media partner during the 4 days of this religious event comprising of special television programs and activities taking place in the area.