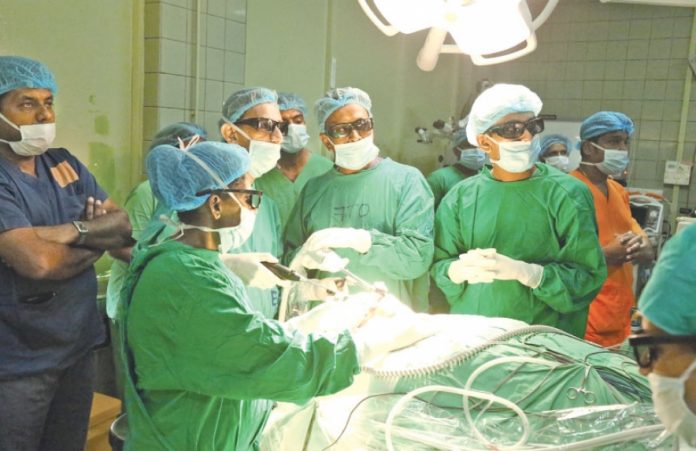 The Colombo National Hospital yesterday created a surgical breakthrough by successfully performing a surgery to remove a thyroid gland using the 3D Trans Oral Endoscopic Thyroidectomy method.The operation used 3D Einstein Version cameras and has removed the need to have an invasive procedure performed.
The operation was conducted by a medical team from the National Hospital Ear, Nose and Throat (ENT) Unit headed by Specialist Dr. Rizny Sakkaff.A resident of Bandaragama, Mohamed Faiz (42) underwent the surgery. The patient, half an hour after the surgery, had regained the use of his voice and was happily talking to the doctors.
Dr. Sakkaff said this was the first time in Sri Lanka where this operation was conducted using a 3D Einstein Version camera. As the operation was non-invasive, it had left no scars on the patient. In addition the cost of the operation was very much reduced and the recovery period of the patient was faster than when traditional surgery was performed. Dr. Sakkaff explained that such surgeries were not regularly performed because there was a shortage in the equipment and technology needed and many did not have the knowledge to use them.
The Kuliyapitiya Hospital on February 8 had also conducted a non-invasive procedure to remove a thyroid gland, but they had not used 3D Einstein Version cameras.