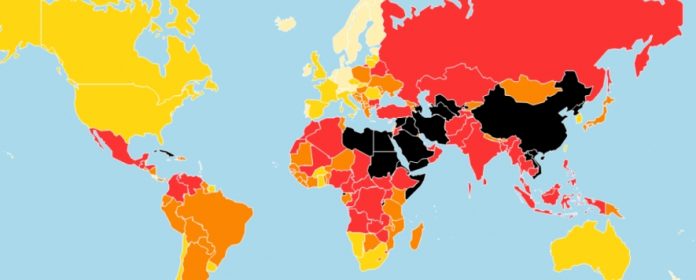 Sri Lanka was ranked 131st in the World Press Freedom Index-2018, going up 10 notches from last year, the index compiled by the Reporters Without Borders or Reporters Sans Frontières (RSF) said.According to the report which was released on Tuesday (24), Sri Lanka was in 131st place in terms of press freedom this year with a score of 41.37, this was out of a total of 180 countries.
In 2017, Sri Lanka was ranked 141 with a score of 44. 34. According to the report, the lesser the score, the higher the press freedom of a country.In its country specific statement on Sri Lanka, the index questioned whether impunity will ever end in the country.
It said some progress has been made in the investigation into Lasantha Wickrematunga's murder after the new government came into power, investigations into many other cases however have gone unpunished. "The government said journalists no longer had anything to fear because of their political views or their coverage of sensitive subjects such as corruption and human rights violations by the military. But attacks on journalist Freddy Gamage in June 2016 and in early 2018 fuelled the doubts in the minds of both the public and free media campaigners," it said.
It said the Tamil media, which are often the target of attacks and censorship, both during the civil war and after its official end in 2009, are still on their guard. It also said in March 2016, the ministry of parliamentary reform and mass media ordered all news websites to register with the government or become illegal.
"This vague and disproportionate directive immediately reminded the media and citizen journalists of former President Mahinda Rajapaksa's censorship methods," the statement said.In the South Asian region, Bhutan, Nepal, Afghanistan and Maldives all performed better with rankings of 94, 106, 118 and 120 respectively. India was ranked 138, Pakistan 139 and Bangladesh 146.
Norway was ranked first in the index with the highest rate of press freedom in a country followed by Sweden, The Netherlands, Finland and Switzerland. Meanwhile, North Korea was ranked bottom of the index with the worst press freedom in the world followed by Eritrea, Turkmenistan, Syria and China.
"The 2018 World Press Freedom Index, reflects growing animosity towards journalists. Hostility towards the media, openly encouraged by political leaders, and the efforts of authoritarian regimes to export their vision of journalism, pose a threat to any democracy," the index report said.