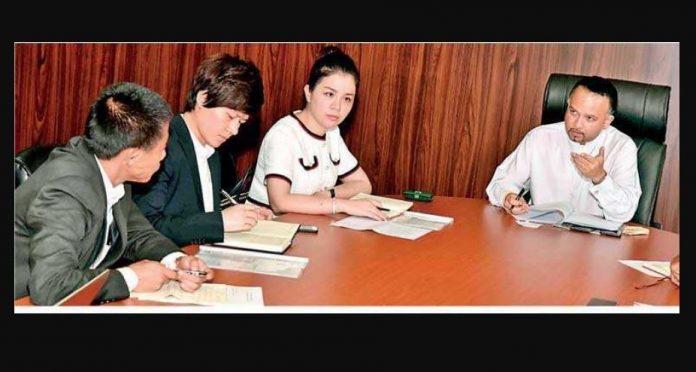 A high powered delegation from China confirmed its interest in making joint investments in rubber industry development in Sri Lanka at an unusually long meeting chaired by Minister of Plantation Industries Navin Dissanayake, held last Monday (23rd) at the ministry.
This meeting extended over four hours and Ceylon tea was very cordial, highly productive and extremely fruitful for both countries. At the end, both parties agreed firmly to a long roadmap with short timelines to facilitate a process of large investments spread over a span of 15 to 20 years. Further studies will reveal the scale of investments to be made and the key areas of focus.
The Chinese delegation was led by a brilliant and well-informed young professional named Amy Lin, the CEO of a large conglomerate with operations in China, Hong Kong and Singapore engaged in a multitude of value adding businesses. The Chinese government was represented by a senior official attached to the Ministry of Agriculture. According to Amy, China wishes to support the implementation of the Sri Lanka Rubber Industry Master Plan through a portfolio of long term projects that cut across the entire rubber industry value chain.
This would result in elevating the spirit of the historical China-Ceylon Trade Agreement or Rubber-Rice Pact signed in 1952 to a great height after 66 years further consolidating a sincere relationship between the two friendly countries. The proposed investments will come partly from a special fund linked to the One Belt One Road initiative of President Xi Jinping and the balance will come from other sources. The possibility exists for Sri Lanka also to take up investments jointly depending on the nature of the project.
The Minister who asked a series of searching questions amply demonstrating his grasp of modern business trends and geopolitical dynamics was keen to know why exactly the Chinese interest in rubber which needs long term investments of high magnitude. Amy was swift and direct. Rubber will remain the most strategic industrial raw material even after a century, she mentioned unhesitatingly. Thousands of diverse products are made from rubber and new product discoveries have become the norm.
Rubber is the most preferred "toy" in the hands of material engineers, technologists and product designers. Why not we invest in rubber in Sri Lanka especially when this country introduced natural rubber to Asia some 140 years ago? It has a long rubber tradition, highly competent workforce including rubber technologists and professional managers and a finely crafted Master Plan that clearly spells out the vision, policy, strategy and programs of the government towards rubber industry development with great clarity.
The Minister was somewhat puzzled. He turned to his officials and asked why he is getting different signals from some of the private sector companies in Sri Lanka which manage thousands of hectares of prime rubber lands in best rubber growing areas making Latex Crepe and Sole Crepe rubbers which are considered world's best. What prevents them moving down the value chain if rubber is such a strategic material? Some stimulating food for thought, the Sri Lankan side agreed.
Both countries will institute working committees to make studies and convert the ideas discussed at the meeting to concrete project proposals with all aspects of feasibility assessed. Projects may cover both upstream and downstream segments from investments in rubber plantations, introducing novel technologies, and adding value to rubber and rubber-wood. Market studies and risk assessments will be conducted before finalising the designs, business models and financial models.
The Chinese government wishes to declare its plans for the projects at the 2019 international summit on the fifth anniversary of the Belt and Road initiative. The parties agreed to expedite the planning process.
The Minister made a very poignant request from the officials after pledging fullest support of the Government to the proposals made. While aiming at economic development goals, he advised the officials never to lose the sight of the plight of thousands of rubber smallholders and rubber tappers in Sri Lanka which include women toiling around rubber trees striving to earn a decent living. Take them out of the dreaded commodity trap, he appealed, and thanked the Chinese delegation profusely for agreeing to give a helping hand. If the project gets off the ground as wished by both countries, it will be another feather in the cap of Navin Dissanayake, the action oriented Minister responsible for the destiny of Sri Lanka's plantations and its workforce comprising of millions of rural poor.