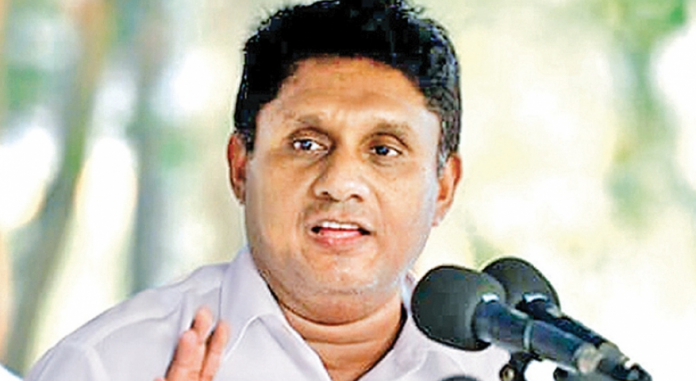 Minister Premadasa said that already 55 such model villages have been declared open during the good governance government's tenure, with the opening of the 'Siyanethugama' Model Village consisting 29 houses at Julepallama in Thissamaharamaya on Saturday.He said that construction of 618 houses are nearing completion to the extent of enabling two Udagammana to be opened each week.
Six hundred and eighteen Udagammana Model Villages are to be opened this year in the government's bid to open 2500 of these by 2020 before the Presidential Election or the General Election,Housing and Construction Minister Sajith Premadasa said.
The Minister added that the Housing and Construction Ministry has plans to commence construction of another 650 Udagammana this year."It requires only to commence the construction of 650 Udagammana to be completed in 2019 and 2020 to reach this target," Minister Sajith Premadasa said. "It is not an impossible goal. We as a government have plans to find funds and achieve it."Minister Premadasa also said plans are afoot to provide shelter to all by 2025 by implementing a revolutionary project under the Good Governance government.
He also said that in order to provide shelter to all, the government will also provide low interest housing loans while offering special loan schemes,such as, Visiri Nivasa Loan, Sonduru Piyasa Housing Loan etc have been introduced to encourage people of different economic levels.The Minister was speaking at the opening ceremony of the Siyanethugama' Model Village constructed for visually handicapped persons' families.
"I am happy that this is the second model village constructed for visually handicapped persons in the country's history," Minister Premadasa said. "The first one-Nayanalokagama was constructed in Katana by my late father former President Ranasinghe Premadasa when he was the Housing Minister. It provided 25 houses to visually handicapped persons while the new one has 29 housing units."Minister Premadasa further said that had the No Confidence Motion against Prime Minister Ranil Wickremesinghe succeeded, the people would not have had the chance to enjoy the benefits of the 2500 Udagammana project. He further said the government feels the people's aspirations at grassroots level.